Return to Headlines
Anoka-Hennepin opens second River Trail campus for district's special education needs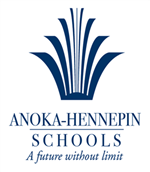 (02/08/19) Anoka-Hennepin recently opened a second River Trail Learning Center campus, which will specifically serve special education students with significant developmental cognitive disabilities (DCD) and autism spectrum disabilities.

River Trail Learning Center at Verndale, located at 2829 Verndale Ave., in Anoka, joins River Trail Learning Center at L.O. Jacob as schools specifically designed for Anoka-Hennepin's special education program.

"We're excited," said Cory McIntyre, the district's associate superintendent for middle schools and student services. "Verndale will provide support for both physical and emotional health by helping students build relationships, increase self-regulation, and achieve success in both academic and non-academic areas."

In particular, Verndale will offer some specialized services, such as proactive behavior strategies, flexible and differentiated learning communities based on student needs, individual/small group instruction, and a full range of related services including: speech/language, occupational/physical therapy, nursing, assistive technology, mental health and behavior support, and developmental adaptive physical education.

The new site was needed for a number of reasons, McIntyre said, but chief among them is that by pooling resources at a central location, like Verndale, the district is better equipped to support students and staff, and be more efficient.

"It helps us better meet the needs of students who have significant disabilities," he said. "It also offers stronger support for staff as well. So the learning spaces are much more supportive."

With Verndale's opening, the elementary special education students who were at the River Trail satellite program at Morris Bye Elementary School in Coon Rapids have moved to the new facility.

"Generally speaking, the move has been positive as we acclimate," he said. "Of course, when making a change to a new facility like this, there are some transitional challenges. But we've been thoughtful, and our parents, students and staff have been wonderful as we adjust to the new learning environment."

The Verndale building was purchased by Anoka-Hennepin in June 2018 for $545,000, which is significantly less than its $600,000 appraisal. According to the district's Chief Operations Officer, Chuck Holden, the site was the former home of the Fraser Autism Center, and when their lease ended, the building's owner, Bruce Bomier, gave the district a discount on the facility so it could continue to be used for educational purposes. "He deserves a lot of thanks," Holden said.

Also, before the district purchased the site, Anoka-Hennepin worked with the city of Anoka and its leaders to adjust some zoning issues. "The city has been a great partner, too" said Holden.