Return to Headlines
Anoka-Hennepin Technical High School helping one student pursue big dreams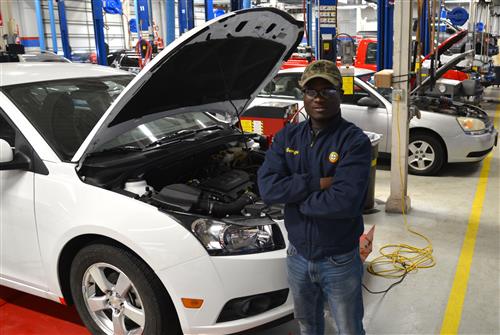 (03/01/19) George Bogar has always liked cars. When he was a kid growing up in Monrovia, Liberia, he'd visit a garage close to his home all the time.

"I knew some of the people there and I learned some automotive stuff being there all the time," he said. "I like autos."

So in 2017, when Bogar moved to the United States to be with his mother who had moved earlier, he had a plan in his head. He had always been a good student and enjoyed school. So Bogar figured he would move here, graduate high school, then go to college to focus on an automotive degree, then get to work in the automotive industry.

"I came thinking I'd go to school here for a year and then go to college. I was excited," he said. "I thought I would start right away, and maybe be self-employed doing this. But it went a little differently than I expected."

The long and the short of it is that the United States hasn't perfected a way to match credits a student in a foreign country like Liberia earns while in school. The result for Bogar is that when he began classes at Coon Rapids High School in 2017, it became clear to him and his counselor that it was going to take longer to graduate than he had expected because he was going to have to take a lot of classes over again.

"I'm already a little old," he joked. Bogar is going to be 20 years old this spring. "I was going to be much older than other students graduating."

So he worked with his school counselor and decided to enroll at Anoka-Hennepin Technical High School (AHTHS), Anoka-Hennepin's diploma completion program, located on the Anoka Technical College campus, that offers 18 to 21-year-olds who don't or can't graduate with their peers a chance to get their high school diploma and transition into college or a career.

"It's been a great experience at this school," Bogar said. Not only is Bogar on track to earn his diploma this spring, but he's going to do so with 29 college credits under his belt, including the 13 college credits he's taking this semester.

"It's amazing," Bogar said. "Now I'll be able to finish my degree in 2020 (at Anoka Technical College), and then I hope to do some more college — maybe a four-year degree, and then work for a year or two."

But it's his plan after working a year or two that has him, and his teachers at AHTHS so impressed. Bogar wants to go back to Liberia, both to open a garage, but also teach students like him.

"I want to help people do things the right way," he said. "Nowadays in Africa, in my country, they can't teach things the right way. They don't have material and stuff to teach the right way. I want to help. Where I'm from, a lot of kids — they don't want to do auto."

Dave Larson, who teaches auto classes at Anoka Technical College, says George has a knack for cars and all that goes into working on them.

"He's kind of blown us away," Larson said. "(George) is the kind of student we wish we could see more of."

Larson said it used to be that the college would see a lot of tinkerers — students who would pop open the hood of their own car and tinker on the car and self-teach how to fix them. "We don't see that anymore because the cars are so complex," Larson said. "The afternoon tinkerer is outside their range."

So Larson said students nowadays need to have other skills, in addition to being able to work on a car. "We need kids with technical aptitude, and who understand computers and technology and can make a diagnosis. George is one of those kids."

Last fall, Bogar began using some of the skills he's learned at school when he started working at Cornerstone Auto in Elk River as a Quick Lane tech. There he changes oil and does brake jobs and other auto repairs.

"It's a lot of fun," Bogar said. But he wouldn't have it, he said, if it wasn't for Patty Halsey, the work experience coordinator at AHTHS, who he says helped him get the job.

"She was a lot of help," he said. "All of the staff at the school is really helpful. The teachers are so supportive."

Learn more about AHTHS by visiting ahschools.us/ahtech.