Return to Headlines
Let's Talk About It! - Helping Our Seniors
(05/22/2020) This month's topic was going to be about summer and the freedom that many of our students would have experienced, with a focus on prom, graduation parties, and other milestones students often partake in had it not been for COVID-19. While the pandemic continues to unfold around us, I want to spend some time focusing on our graduating seniors and the sense of loss (and grief) that each of them may be experiencing. It's important to make sure that our seniors feel supported in their feelings and that they have healthy coping skills in place to avoid any negative consequences that could lead to substance use and misuse, mental health problems or family issues.

Missing out on senior milestones can be tough on our seniors and we need to be extra attentive to those who are struggling with these losses. If we don't recognize and acknowledge the pain and unfairness in this, we leave the door open for our students to find other ways to manage. Often, one of those ways is to use a mood-altering substance to find some relief from the constant worry, anxiety, anger and depression that COVID-19 has created. Here is a great article from NPR that helps explain what those challenges are and how we can help our seniors (and other teens) cope. Another great resource is a video from the Youth Service Bureau, a non-profit organization committed to supporting youth in Washington County.

We have all felt the need to escape at one point or another. As adults, we have a wealth of experience and knowledge that allows us to do so, in most cases, appropriately and safely. Teens, on the other hand, may lack the experience and in some cases, the coping skills, to manage appropriately. Because their brains are not fully developed they may resort to using a mood-altering drug to find some relief, as the high felt during drug or alcohol use directly affects the reward center of the brain. Additionally, the memory of the high remains, making it difficult for the teen to avoid repeating - leaving them vulnerable to substance use issues.
This short video from the National Institute on Drug Abuse explains how and why a teen brain reacts the way it does from a teen's perspective, helping us to remember it is not always a choice that they act the way they do.
This video explains the difference between an adult and adolescent brain as well as risks that young people face.

I want to extend congratulations to all the graduating seniors in the Anoka-Hennepin School District and let you know that while this may not be the year you expected, it is still your year to remember and there are still many wonderful, exciting and positive memories that can be made. When you look back on your high school experience, may you have fond memories of all four years, not just the last four months.

To the parents of high school seniors — enjoy each and every day with your student before they go out and take the world by storm. Some of your most important parenting will happen during the downtime between graduation and your student's next phase of life. Enjoy and cherish it.

As always, my hope is that you have enough information at your fingertips to help your student, and if given the opportunity, you can say, "Let's Talk About It."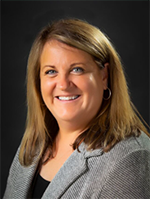 Colleen O'Neil, LADC, CPP
Anoka-Hennepin School District Chemical Health Prevention Specialist
Phone: 763-506-1145
Email: colleen.oneil@ahschools.us
Past Blogs