Return to Headlines
District students shine at state BPA and DECA competitions
(04/02/2021) Hundreds of Anoka-Hennepin students recently competed virtually in state competitions for Business Professionals of America (BPA) and DECA. Many students turned in outstanding
performances and 55 students are set to represent their schools and programs at the national level.
Below are results from the district's high schools:
Andover High School
Kerra Curnow placed fifth in Advanced Accounting at the state BPA conference and qualified for nationals.
Anoka High School
Anoka High School DECA members completed state competition with 30 contestants participating in the statewide virtual competition. Bailey Jennes, Kayla Buth and Abby Schurrer earned first place in the Integrated Marketing Campaign event. Buth also teamed up with Kaitlyn Sanders for a second place finish in the Financial Literacy Project.
Belle Blauert earned third place in Hotel and Lodging Management. Other finishers included: Liz Spleiss and Maddie George (eighth place, Sports and Entertainment Team Decision Making), Jaiden Keene and Hannah Woody (eighth place, Buying and Merchandising Team Decision Making).
In April, Blauert, Buth, Jenness, Schurrer and Sanders will have the opportunity to compete virtually with more than 15,000 students from around the world during the International Career Development Conference.
Anoka also had students compete in the state BPA competition.
Connor Rivers earned first, second and third place finishes and will represent Anoka in three events at the national competition. He took first in Virtual Cybersecurity, second in Java Programming and third in Computer Security.
Elizabeth Wess placed fifth in Basic Office Systems and Procedures and seventh in Fundamental Word Processing and advanced to nationals in both events. Max Bett placed fifth in Advanced Desktop Publishing to earn a spot at the national conference. Jessica Harvey also participated in Fundamental Word Processing during the virtual state conference for the Tornadoes.
Blaine High School
The Blaine High School BPA chapter earned three awards at this year's leadership conference. The Bengals were awarded the Social Media Award, BPA Marketing and Public Relations Award, and the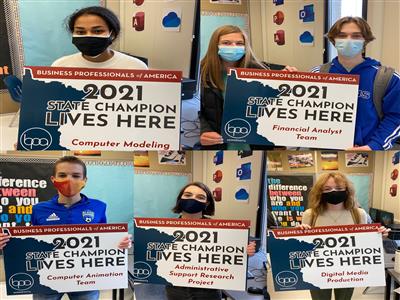 Community Service Award.
Tammy Nguyen earned seven individual awards, including two state championships. Elijah Johnson was recognized for his work as the Region 4 President, and was also selected to run for a National BPA officer position.
Blaine's BPA club had 60 students compete at the virtual conference and had 39 students qualify to compete at the national conference. View a list of Blaine High School's state results.
Champlin Park High School
State participants:
Hayat Abdullahi - Extemporaneous Speaking (1st place) and Ethics and Professionalism (5th place).
Alayna Silas - Health Administrative Procedures and Basic Office Procedures.
Sunny Jones - Payroll Accounting (13th place) and Fundamental Accounting (13th place).
Melvin Gaye - Interview Skills (6th place).
Edmund Ocansey - Interview Skills.
Maria Condo Arias - Advanced Interview Skills.
Hayat Abdullahi placed first in Extemporaneous Speaking and fifth in Ethics and Professionalism and will represent CPHS in both events at the national competition. Sunny Jones placed 13th in Payroll Accounting and Fundamental Accounting and will compete at nationals.
Coon Rapids High School
Coon Rapids High School had 17 DECA members compete in the virtual DECA competition. Highlights included an eighth place finish by Emily Holloway in the Community Service Project. Josie Ingvaldson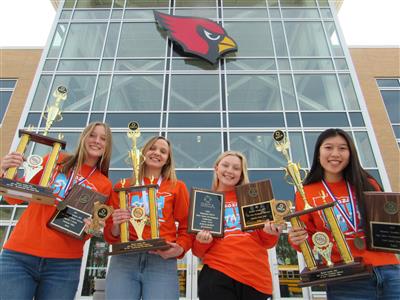 placed seventh in Hospitality and Tourism Professional Selling. Emily Holloway and Ingvaldson teamed up with Uyen Nguyen and also qualified in the School-Based Enterprise (SBE) Project by recertifying the Cardinal Image as a gold level enterprise.
Nguyen and Ingvaldson earned fifth place for their SBE presentation at the state competition. Individually, Nguyen finished fourth place in Professional Selling. Marshall Milless earned a fourth place finish in Financial Consulting. The team of Ingvaldson and Megan Schultze brought home a second place finish in Entrepreneurship Team Role Play.
Nguyen, Schultze, Milless, Sydney Holloway and Emily Holloway, Mya Kelley, Anna Kelley, Jordanna Bradford and Ingvaldson all qualified to attend this spring's virtual International Career Development Conference.
This article will be updated with results for Andover High School BPA.