Return to Headlines
Coon Rapids High School to induct fourth Hall of Fame class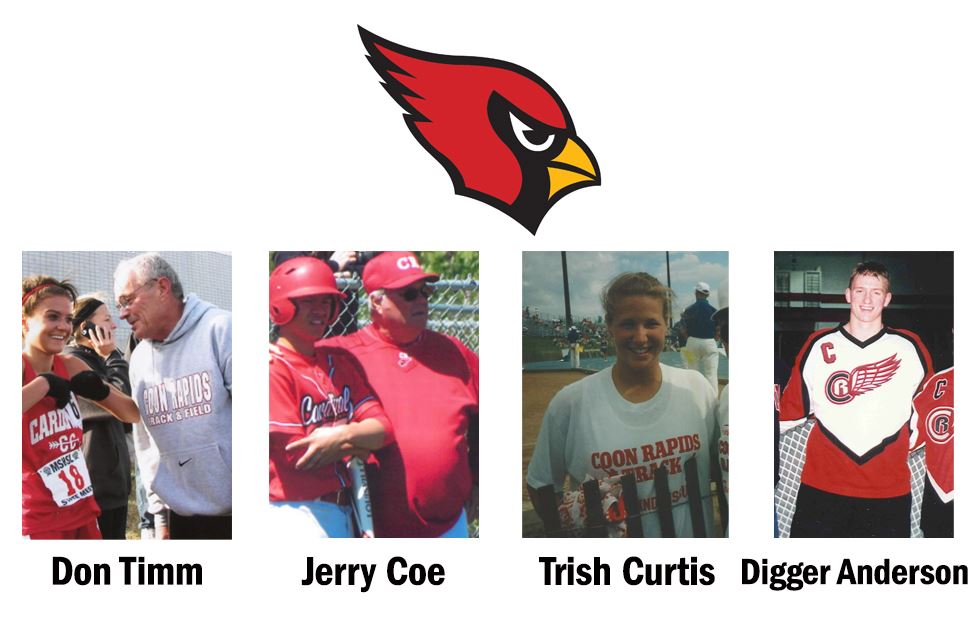 (09/09/2022) Coon Rapids High School (CRHS) will induct its fourth Hall of Fame class featuring two former standout student-athletes and two longtime coaches.
CRHS will recognize this year's Hall of Fame inductees in a ceremony on Friday, Sept. 16. Inductees will be honored at a ceremony with friends and family in the CRHS cafeteria at 5 p.m. before being recognized prior to the Cardinals football game against Elk River High School. Kickoff for Friday's game is set for 7 p.m.
To nominate someone for the CRHS Hall of Fame, visit ahschools.us/crhs and click on the activities tab. It is anticipated that the Hall of Fame induction will be an annual event, a process that will be dictated by nominations each year.
Meet the newest members of the Coon Rapids High School Hall of Fame:
Jerry Coe
Jerry Coe began his coaching career at CRHS in 1973 as an assistant hockey coach and spent the next 14 years with the Cardinal hockey program, helping CRHS to its first and only Northwest Suburban Conference championship in 1982. Coe was also instrumental in starting the girls soccer program at CRHS, helping launch the team in 1976 and serving as an assistant coach through 1980. Perhaps his most profound impacts, besides serving as a teacher at CRHS, can be found on the baseball diamond. Coe was named head baseball coach at CRHS in 1993 and built on the foundation set by former legendary coach and fellow CRHS Hall of Fame member Ken Sundstrom. Coe amassed 384 career wins as the bench boss of the Cardinals, winning six conference titles, four section championships and two state titles (1993 and 2008) in four appearances. He was named the Minnesota State High School Baseball Coaches Association (MSHSBCA) Coach of the Year following the team's state title in 2008 and was inducted into the MSHSBCA Hall of Fame in 2012.
Don Timm
Don Timm taught history at CRHS from 1973 until his retirement in 2011. He helped launch the AP European History and U.S. History classes and earned the school's Outstanding Performance Award in 2006. Timm coached numerous all-state performers in both boys track and field as the distance running coach as well as the boys and girls cross country head coach. He was inducted into the Minnesota Track & Field Hall of Fame in 2001 and into the University of Minnesota's M Club Hall of Fame in 2004. Timm was arguably Minnesota's best-ever steeplechaser, winning the Big 10 title in 1971, setting a conference record and placing fourth at the NCAA Championships that same season. He was a two-sport athlete for the Gophers, also participating in cross country where he was the Big 10 runner-up in 1970 and 1971. In 2021, Timm was enshrined in the Minnesota Cross Country Coaches Hall of Fame and in 2014, he earned the Breaking Barriers Award from the National Girls & Women in Sports.
Trish Curtis
Trish Curtis is a 1997 graduate of CRHS, where she was a three-sport athlete for the Cardinals. In 1997, she was named the Athena Award winner, which is given to one senior female athlete who has distinguished herself in special individual athletic achievement or superior achievements in one or more sports. She was a two-time letterwinner in soccer, three-time letterwinner in basketball and four-time letterwinner in track and field. On the basketball team, Curtis was a two-time all-conference and team MVP selection earning all-state honorable mention honors and state all-tournament team honors in 1997. She holds the school record for single-game rebounds with 22. She was also a standout in track and field for the Cardinals, earning all-conference honors four times and twice being named all-state. In 1997, she won individual state championships in the shotput and discus throw events. Curtis owns school records in discus (133 feet, 6 inches) and shot put (43 feet, 6 inches). She was also a member of the 1996 state championship track and field team.
Digger Anderson
Digger Anderson graduated from CRHS in 2001 as a three-sport athlete. Anderson participated in track and field, earning four letters, as well as hockey and football. He was named a team captain of the hockey team as a junior and senior and earned all-conference honors as a senior. On the football field, Anderson was a three-time letterwinner and two-time first team all-conference selection. He was named the team's Defensive MVP twice during his career and was the Northwest Suburban Conference Defensive MVP in 2000. He earned Star Tribune and Kare 11 first team all-metro honors and was a first team all-state selection by the Pioneer Press. He finished his career with 280 tackles and holds records in tackles and assisted tackles. Anderson continued his academic and athletic career at the University of North Dakota, where he was an Academic All-American and a 10-time First Team All-America selection. He finished his career at UND first in career solo tackles and still ranks fourth all-time in total tackles.