Return to Headlines
Pilot of honors African-American history an example of district offering courses students are clamoring for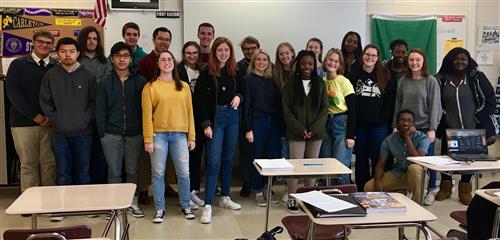 (11/30/18) Andover High School (AndHS) social studies teacher Jessica Askew said she's been exposed to the subject of African-American history since her college days in the late-1980s.

"My roommate at (Carleton College) was an African-American history major, so I've been exposed tangentially to the subject since then," she said.

But it wasn't until more recently that she really saw firsthand the impact the subject could have on students who learn about African-American history while in high school. "My son graduated from Minneapolis schools last year, and he had the opportunity to take an African-American history class at South High School," she said. "I have to say, it was profound for him. He was inspired, and it got me really excited."

Excited, she said, because it's around this same time that she began working with the district's curriculum department on a pilot African-American history class. That class, honors African-American history, debuted this school year and will be taught at all five traditional high schools. It's a one-trimester elective class, and the two-year pilot will go through the 2019-20 school year.

"I'm so happy the district is offering it, and so are our students," Askew said. "This is a way for our system to respond to a need of something that's been missing."

Dan Bordwell, the district's secondary social studies teaching and learning specialist, said the idea was presented to the curriculum department before the 2017-18 school year, and that curriculum writing took place last year in the run-up to launching the pilot class this year.

"I think there was an acknowledgment that our curriculum wasn't including all that it could," he said. "So this class fills in knowledge gaps that our current curriculum misses."

Askew's course syllabus says the class is designed to develop an understanding of the causes, character, and consequences of the African-American experience and its influence on the world, the United States, and the African-American community. Beginning with a historical, geographical, social, political, economic, and cultural understanding from the African continent, the course will provide a descriptive and corrective overview, introducing the student to the study of both the African and African-American experiences.

Nov. 29 was the last day of the first trimester in Anoka-Hennepin, and with it, the end of Askew's AndHS pilot class.

"The students — they tell me that they love the class," she said. "They feel like they're getting a richer and more complete picture of history. It's not so much that we teach different information, it's that we're way more inclusive. So they feel like they're getting the real story, you could say."

Bordwell said that was the goal. "The students are getting so much more in this class than what was previously offered, and they're excited," he said. "It's also going hand in hand with our inclusion work in social studies to find places within our curriculum to bring up examples that haven't been brought up before."

In year one, the class has been popular with everyone, and Askew said she had to be intentional in making her class, which was comprised of a 50/50 mix of white students and students of color, a safe space for all perspectives.

"What's really interesting to me, is that the kids really want to talk about race and race relations — it's the adults who don't want to sometimes," she said. "But the kids really have a lot of insights and questions, and I think they're grateful to have a place to talk about race issues. My big fear coming in to the class, honestly, was how to create a classroom environment where students of color felt like their voices were valued and heard."

So she set a priority for building community in the class. "I worked to thread that needle — to make it fully inclusive and a safe place for all students," she said.

The district had a lot of help in developing the class from examples of similar classes around the state, including the one Askew's son took in Minneapolis, but also from Dr. Keith Mayes, a University of Minnesota professor who teaches in the school's department of African-American and African studies.

"He helped develop content and helped with discussion tips and how to guide learning," Askew said. "We couldn't have done this without him."

It was also Dr. Mayes who helped provide the most impactful moment of the trimester for Askew and the honors class students from both AndHS and Coon Rapids High School (CRHS), which also piloted the class trimester one.

Askew said Dr. Mayes invited the AndHS and CRHS classes to visit one of his classes at the university so they could see it and get a taste of the college experience.

"It was so powerful," Askew said. "For our kids that got to experience that, many of whom are possibly going to be first-generation college students, and seeing themselves in a college setting was huge. They were able to see it was something they could do."

Anoka, Blaine and Champlin Park will have their pilot classes in trimesters two or three. Next year, each school will hold the class again, and then the course will be reviewed for adoption, Bordwell said.

"I hope we keep it," Askew said. "It really is American history, it's just more inclusive, and that makes it a rich academic experience that students really enjoy."