Return to Headlines
Superintendent's roundtable makes stop at Coon Rapids High School
(11/30/18) The student voice is an important piece to the decision-making process by Anoka-Hennepin administrators. During the 2018-19 school year,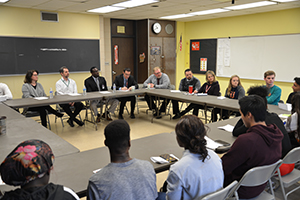 Superintendent David Law is making it a priority to hear from students.
On Nov. 19, Law visited with students at Coon Rapids High School - Center for Biomedical Sciences and Engineering (CRHS) alongside associate superintendents Dr. Timothy Gadson, III and Cory McIntyre, as well as School Board members Nicole Hayes and Jeff Simon. The visit was a part of a series of nine listening sessions with district students.
Superintendent Law encouraged students to speak up and be a voice for themselves and their peers and were asked a variety of questions ranging from what their favorite classes were, to how prepared they feel about life after graduation, to class scheduling and to school safety.
One particular subject of interest brought up by the group was the pressures surrounding post-graduation plans. Many students expressed that they experienced outside pressure to go to a four-year college from peers and recent grads. That being said, the majority of the room indicated that they felt supported by their school and their teachers no matter what their path might be.
Superintendent Law urged the students to travel down the path that they felt most passionate about. "Wherever you go, I hope that you feel supported," Law said.

The CRHS students revealed that through their coursework, they feel confident that they are ready to accomplish their plans following graduation. One student who is interested in entering the business world said that his classes are teaching him customer service and how to interact and communicate effectively.
Another student stated that the biomedical sciences program has opened his eyes to the medical field and given him a glimpse of what to expect and a level of readiness when preparing for college.

Other topics discussed included schedules and class availability throughout the school year as well as school safety and discipline.
The first of the student roundtable events was held on Oct. 9 at Andover High School Since then, Superintendent Law has visited Anoka and Blaine high schools as well as the district's Compass Program at the Bell Center in Coon Rapids. Four more visits are scheduled for later in the school year.