Return to Headlines
Year after audit, Anoka-Hennepin begins action steps to bolster special education program, improve outcomes for students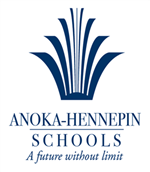 (11/30/18) Whether they need a little support or a lot, nearly 15 percent of Anoka-Hennepin's 38,000 students receive services from the district's special education program.

So it's likely that many people in the community have noticed that the district's special education program is undergoing a lot of positive change this year as the department evolves to better meet the needs of its students and improve student outcomes.

The changes come on the heels of a comprehensive audit performed last year by the University of Minnesota's Center for Applied Research and Educational Improvement (CAREI) at the behest of the Anoka-Hennepin School Board, with the goal of thoroughly analyzing the program's services, focusing on best practices and the needs of students with an eye toward improving academic and behavioral outcomes for students.

"We simply want better outcomes for students in our special education program," said Cory McIntyre, the district's associate superintendent for student services and middle schools who oversees the program. "That isn't to say we've been doing things wrong, but we're always trying to improve, and as student needs have become more complex over time, it's become clear our system needs to adjust to better meet those needs."

The audit was big, McIntyre said. Boiled down, it analyzed 15 individual areas of the program to achieve a full perspective, from the program's administration, to early childhood programming, to setting one through four services, to speech and language, autism and health services, among other areas.

From the results, 40 action steps were derived across four different theme-areas: multi-tiered system of support (MTSS); mental health; staffing; and paraprofessionals, McIntyre said. Those 40 action steps are being addressed in two phases over four years, and this year is the first year of the first phase.

Ultimately, McIntyre said, the goal of the action steps is to increase instructional rigor for students, increase professional development for special education staff, increase responsiveness and build stronger building-level support, increase data-informed decision-making, and streamline and make more transparent special education processes and procedures.

"I get it, it sounds complicated, but parents should know that in the end it's about outcomes," McIntyre said. "We're looking to make sure we're providing students instruction based on best practice research that also meets the needs of students. There's a lot of things that need to be looked at within the system to assure that, but that's what it comes down to."

The surprising news is that this year, the special education program has already started implementing and working on 32 of the 40 action steps, McIntyre said, from shifting from a caseload model to workload model, to implementing a scorecard so staff can better see and work toward goals, to adjusting resources at sites based on need.

He acknowledged that a lot is being asked of special education staff, but that they're on board and committed to the work. "We have great, highly-skilled staff in this district and they care deeply for students and they're working hard for them," he said. "And our staff also feels a sense of urgency in how we can provide better and better results for our students. So our staff — they're invested."

As the district moves forward, a 25-member audit advisory committee will be meeting four times a year to independently assess how things are going, McIntyre said.

"There's some flexibility to the plan so we can be agile and flexible," he said. "The committee will help with that, too, and keep us on track."

For more information about the district's special education program, visit ahschools.us/sped.