Return to Headlines
Coon Rapids High School student recognized for bringing awareness to mental illness
(03/01/19) Briana Clifton, a senior PSEO student at Coon Rapids High School -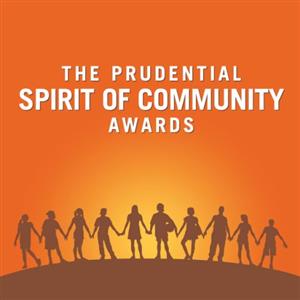 Center for Biomedical Sciences and Engineering (CRHS), was recently named a distinguished finalist for the Prudential Spirit of Community Award for her dedication to raising awareness about mental illness.

During her junior year at CRHS, Clifton organized an event with the National Alliance on Mental Illness (NAMI) and Morningsong Therapy Center to organize an educational event at the school to bring awareness to mental illness and help educate students about career opportunities in the mental health field. This event featured speeches from survivors and mental health professionals and was attended by over 50 students.

She began working with the NAMI and saw a need to not only educate those around her on mental illness but career opportunities in the field.

"The idea began with wanting to host a lock-in event for those interested in careers in psychology," Clifton said. "After working with the National Alliance on Mental Illness, I realized the need for a fundraiser and awareness campaign on mental illness."

It was there she began working on the event and combined all three causes by selling tickets to the event, starting a raffle and hosting group discussions and signing advocacy pledges to educate the community.

Clifton was inspired to get involved in bringing awareness to mental illness after seeing family members experiences with mental illness.

"Usually society considers these illnesses as moral failings, but after educating myself on the risks and causes, and volunteering with organizations such as NAMI, I began to view the struggles with empathy," Clifton said. "I realized many survivors of mental illness may feel similarly, and I knew more had to be done in my community to combat the stigma and lack of education associated with mental health."

Clifton is fully immersed in the mental health field as she is in her second year attending the University of Minnesota pursuing a degree in physiology while also working toward minors in psychology and Spanish. She is also involved in the psychology organization at the U of M and continues to advocate for awareness of mental illnesses.

Following graduation, she plans to attend the University of Missouri-Kansas City where she will enroll in a six-year program to earn her bachelors of liberal arts and doctorate of medicine. Clifton said she hopes to specialize in women's health or mental health while continuing to work on public health projects related to mental illness.

Shortly after being named a distinguished finalist for the Prudential Spirit of Community Award, Clifton was announced as a semifinalist for the Cooke College Scholarship Program, which provides recipients with up to $40,000 annually for four years to enable them to attend some of the top colleges and universities in the United States. It is one of the most prestigious undergraduate scholarships in the nation.