Return to Headlines
Coon Rapids High School Hall of Fame welcomes second class of inductees
(09/23/19) Last year, Coon Rapids High School (CRHS) enshrined its first-ever Hall of Fame class that included the likes of longtime athletic director Roger Carlson, former basketball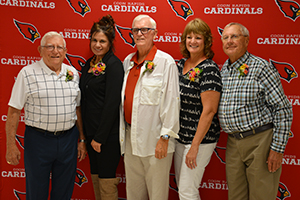 standout and NBA player Tom Copa and legendary baseball coach Ken Sundstrom. This year's class, features three former teachers and coaches and two high-achieving female student-athletes.

The five individuals were honored with the Hall of Fame distinction during a ceremony and pregame reception prior to the school's football game against Irondale High School on Sept. 20. View photos of the event.

Meet the newest members of the Coon Rapids High School Hall of Fame.

Amber (Affeldt) Gunderson

Amber Affeldt Gunderson graduated in 1995 following a successful run in cross country and track and field for the Cardinals. She won five state titles and was a three-time all-state selection in cross country. On the track, she excelled in the 400 and 800-meter distances, setting school records in both events while also establishing record times in the 4x100 and 4x400 relays. Affeldt continued to succeed in athletics following high school as she went on to compete in the Big 12 for Texas Tech University. She won a Big 12 Championship in the 800-meter run and still appears in the Texas Tech track and field record books.

Bob Board

A 1955 graduate of Anoka High School, Bob Board launched the wrestling program at CRHS in 1963 and spent the next 34 years as a teacher and coach. He compiled a career record of 411-138 and was named the state's coach of the year in 1997, his final year as head coach. He twice served as president of the Minnesota Wrestling Coaches Association during his career and is a member of two Minnesota wrestling hall of fames, including the Minnesota Chapter of the National Wrestling Hall of Fame. Board was a physical education and health teacher and also coached fastpitch softball for 20 years.

Bob Pivec

Bob Pivec began teaching at CRHS in 1969 and was once voted as one of the toughest teachers in the school by the student newspaper. He coached boys tennis for 32 seasons and girls tennis for 29. During that time, CRHS tennis teams represented the Cardinals in over 1,200 team matches and hundreds more individual section and state tournament matches. He finished his career with over 900 wins, leading the Cardinals to 22 conference championships and 20 region and section championships. At the time of his retirement in 2002, his 903 wins ranked third best on the all-time list of winningest high school tennis coaches in the United States.

Joan (Schroer) Montague

Joan Schroer Montague graduated from CRHS in 1979. She excelled in athletics and in the classroom, graduating with honors and participating in National Honor Society. By the end of her senior year, she was a nine-time letterwinner and had earned seven all-conference honors. She was named the Most Valuable Player of the volleyball and basketball teams as a junior and senior and helped her teams to six state tournament appearances (three in volleyball, one in basketball and two in softball) on her way to being named the school's Athena Award winner in 1979. She earned all-state honors in volleyball as a junior and in basketball as a senior. She finished her career with 826 points and 1,127 rebounds in basketball and held the school's scoring record prior to the 3-point line being introduced in 1987-88. Joan went on to play volleyball and softball for one season at St. Cloud State University before finishing her career at Anoka-Ramsey Community College where she earned All-America honors.

Ron Scott

For over 20 years, Ron Scott and CRHS football were synonymous. Scott began coaching the sophomore team in 1965 before being named the head varsity coach in 1969. After two winless seasons, Scott and his staff spent the next 19 years as one of the best programs in the state. By the time he stepped down in 1988, his leadership had developed teams that produced 110 wins, four state playoff appearances and the 1983 Class AA State Championship. Following his coaching career, Scott spent six years teaching biology at CRHS before moving on to an administrative position at Anoka High School. In 1991, Scott was inducted into the Minnesota State High School League Football Coaches Hall of Fame and in 1995, the Augsburg College Athletics Hall of Fame.

Nominations for future Hall of Fame recipients are accepted under the activities tab at the CRHS website at ahschools.us/CRHS. It is anticipated that the Hall of Fame induction will become an annual event, a process that will be dictated by nominations.