Return to Headlines
CRHS uses advisory period to educate students on hands-free driving law
(11/06/19) On April 12, Governor Tim Walz signed the hands-free bill, and the law went into effect on Aug. 1. The bill bans the use of hand-held cell phones while driving and aims to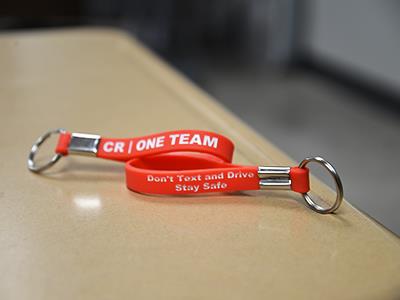 prevent distracted driving accidents.

The new law caught the attention of administrators and educators at Coon Rapids High School (CRHS), finding an opportunity to provide information to all students about the dangers of mobile device use while driving.

On Oct. 31, CRHS used its advisory period to emphasize the importance of hands-free driving, but also to raise awareness on how students can positively influence safe driving as a passenger, according to Jeff Steuernagel, school counselor at CRHS. View photos from the classroom.

Teen drivers should be well aware of the law, as it was already illegal for anyone under the age of 18 to use a mobile device while driving, hands-free or otherwise.

"Our lesson included opportunities to discuss how to approach a situation where a peer or adult might be operating a vehicle while distracted in a tactful and caring manner," Steuernagel said. "We also wanted students to leave with a reminder, so each student received a keychain to help them recall their learning outside of the classroom and in their vehicle."

Chad Fellows, a driver education teacher at CRHS, really wants students to understand the importance of removing all distractions while driving, and speaking up.

"What is more important, getting in a crash, or speaking up?," Fellows asked students. "The number one cause of death for young people is car crashes, with one of the major reasons being distracted driving. The hands-free law is great, but we really stress to our students that they need to remove all distractions while driving."

During the advisory period, students were involved in an interactive discussion surrounding the dangers of distracted driving, which included messages and videos from the Minnesota Department of Public Safety, the Minnesota State Patrol and the Minnesota Safety Council.

With all students, freshman to seniors, taking part in the lesson, CRHS hopes to build a greater awareness surrounding the dangers of distracted driving while giving students resources they need to step up and help each other remove distractions in vehicles.

"We all share the road together, so it is an all-out responsibility to be informed and follow the laws," Fellows said. "The laws are designed to make us all safer. The more people who are informed, the safer we will all be."

For more information on the hands-free law, visit dps.mn.gov/divisions/ots/hands-free.