Return to Headlines
Schools across the district honor Veterans Day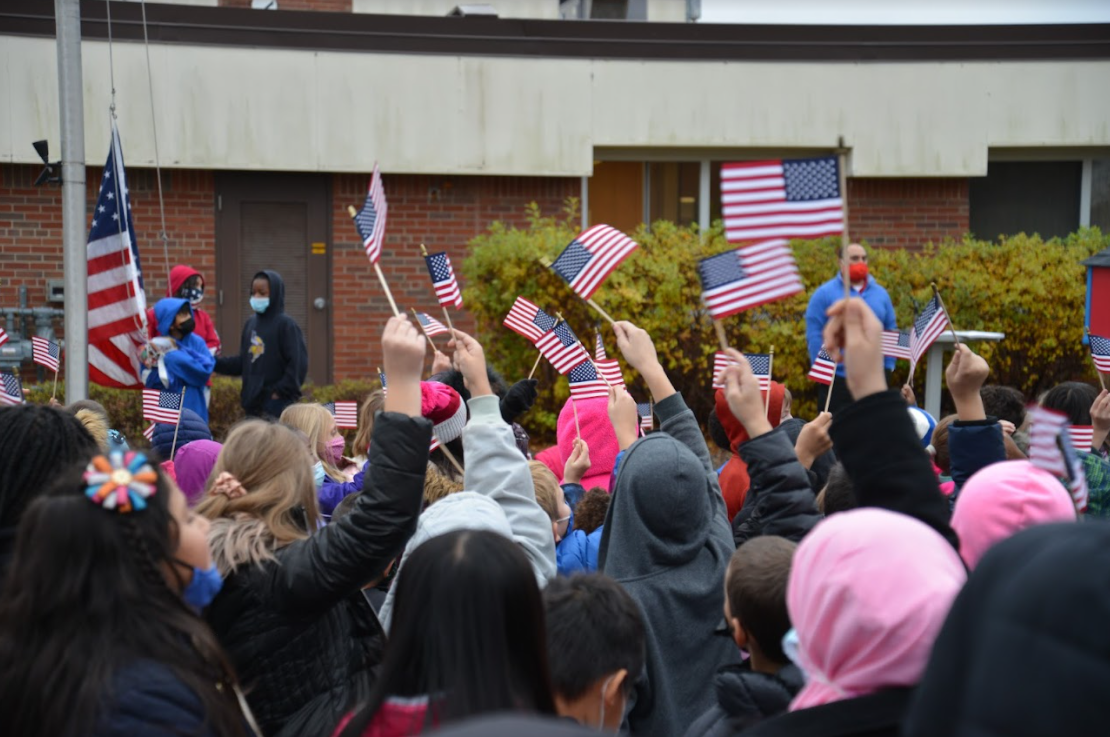 (11/12/2021) Schools across Anoka-Hennepin honored Veterans Day with events and/or educational opportunities aimed at learning about and honoring those who have served or who are serving in the military. It is a proud tradition in Anoka-Hennepin to host veterans and their families. Read more and view photos from just a few of the events around the district:
Andover Elementary created a virtual Veterans Day program to share with their school community.

Anoka High School (AHS) hosted an all school assembly welcomed veterans from all five military branches. To open the event, Principal Mike Farley, a Navy veteran, addressed the students and the community about the importance of Veterans Day. National Honors Society President Nichole Jacquez and Student Council President Sydney Young provided education about the flag, recognized veterans and explained the wreath-laying ceremony. Keynote speaker Lieutenant Commander Steve Merrick, a retired US Naval officer, and a 1972 AHS graduate, shared his experiences. He spoke about his time at AHS and told stories of his time in the military. Band, choir, and orchestra ensembles performed multiple numbers, which included "The Star Spangled Banner," "America the Beautiful," and the military songs from all five branches. While the military songs were played, veterans from those branches stood to be recognized. "Taps" was played by students Alex Hegseth (senior) and Cooper Lindberg (senior). At the end of the assembly, many students came down to the gym floor to shake the hand of a veteran and thank them for their service. To close the morning, AHS staff treated the veterans and their families to breakfast in the cafeteria. View photos from the event. View the video shown at the event.

Blaine High School (BHS) hosted a high-energy Veterans Day tribute that honored generations of service members. KSTP-TV chief political reporter Tom Hauser served as emcee. The family of Andy Chaisson, a 2009 BHS alumni who recently passed away from cancer due to exposure during his military service, delivered the flag at the start of the ceremony. Keynote speaker Mike Mills provided a detailed description of his encounter with an improvised explosive device (IED) blast while serving in Iraq while WWII veterans Stan Nelson, age 101, and Lois Widmark, age 99, lowered the flag and helped retire the colors for the ceremony. BHS bands, orchestra and choir members were featured in an event that was witnessed by an overflow crowd in the school fieldhouse and auditorium. The BHS tribute includes a moving Battlefield Cross ceremony, which concludes with a series of rifle volleys from outside the school by members of the Sgt. John Rice VFW Post 6316. View photos from the event.

Champlin Brooklyn Park Academy Principal Matt Brain and Jackson Middle School Principal Tom Hagerty worked with a family from their schools to coordinate a heartwarming homecoming on Wednesday, Nov. 10, for four students who haven't seen their mother - who had been away, serving as a member of the Minnesota Army National Guard and training to become a Combat Medic - since May. Their father Capt. Brandon Christensen, also an active member of the MN Army National Guard coming up on 20 years of service himself, was in on the surprise - initially giving an educational speech about Veterans Day before introducing his wife, Private First Class Alisha Christensen. Read the full story and watch the video from CCX Media. View photos from the afternoon surprise.

Coon Rapids Middle School welcomed over 20 veterans from the community in an event attended by eighth grade students. The Coon Rapids VFW Post 9625 presented the colors before an eighth grade choir ensemble performed The Star Spangled Banner. An Ojibwe veteran honor song was performed by Waabishkigwan, Keith Bedeau. Student speakers Ja'hera Owens (sixth grade), Narjis Al--Jayashi (eighth grade) and Hannah Jurek (sixth grade) recited their Veterans Day essays. Retired Sergeant First Class Mike Whitaker, who served the Active Army and National Guard units in Honduras, Saudi Arabia and Iraq, served as the guest speaker for the event. Whitaker also served as a military police officer and has spent 30-plus years with the Anoka Police Department. Whitaker shared his experiences in the military and talked about the importance of serving, whether it's serving for your country, the community you live in, or the school you attend. The eighth grade band and orchestra performed the Armed Forces Medley and "America the Beautiful" before all veterans in attendance were recognized. View photos from the event.

Crooked Lake Elementary School students participated in a morning flag-raising ceremony and viewed a school video from three Veterans, also former Crooked Lake Elementary students. Watch the Crooked Lake Veterans Day video all the way to the end to see what this former student has saved from his fourth-grade teacher, given to him nearly 20 years ago.

Hamilton Elementary School students and staff gathered around the flagpole in front of the school for a flag raising ceremony attended by veterans and active military members with children or grandchildren attending the school. Two student speakers read their Veterans Day essays and two local veterans attended the event to share their stories of service and answer questions from students. Air Force Master Sergeant Nina Mentzos and Tech Sergeant Rick Taylor spoke with students about what service meant to them and shared details of their jobs in the military. To conclude the event, students walked a silent lap around the track in honor of all veterans. View photos from the event.

Jefferson Elementary School students gathered around the flagpole for a flag-raising ceremony, which was guided by The Color Guard from Sargent John Rice, VFW. The event was attended by Veterans and active military members with children or grandchildren attending the school. Also, Major General Shawn Manke, the husband of fourth grade teacher Mary Manke, spoke to students as a special guest speaker.

Oxbow Creek Elementary School fifth-graders started the school day with a flag raising ceremony, attended by Veterans and active military members with children or grandchildren attending the school. Former and now retired Oxbow Creek Elementary Principal, Rolf Carlson, played the trumpet so students could sing the National Anthem before raising the flag. Carlson also played "Taps," to honor fallen officers.Steve Christensen, grandparent of fifth-grader Evan Christensen and U.S. Navy Veteran was in attendance for the ceremony and took time to say a few words at the event, Thursday. "I've been here for this event numerous times, it means a lot to me and it's an honor to be here," Christensen said. View photos from the event.

Rum River Elementary School hosted a virtual Veterans Day presentation for students and staff, featuring posters designed by students honoring Veterans in their families, or that they know.

Sunrise Elementary School created a

surprise video

for their staff members who are Veterans. Students wrote cards and letters to Veterans. Staff and students were encouraged to wear red, white, and blue to celebrate Veterans Day.

Students also were educated

about what Veterans Day is and the different branches of the military.