Return to Headlines
Anoka-Hennepin Virtual Academy student pursues dream and competes internationally with USA Gymnastics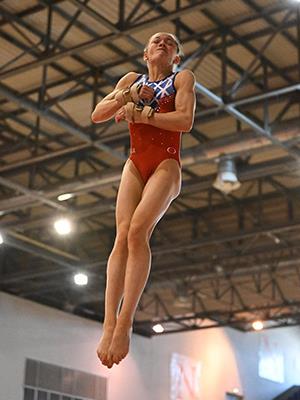 (04/14/2022) Anoka-Hennepin Virtual Academy (AHVA) provides an option for students to learn online and on their own time. For sophomore Elle Mueller, it's an opportunity to gain a high-quality education while chasing her dreams.
On April 9-10, Mueller, who lives in Ham Lake, Minn., helped USA Gymnastics win a team title in an international competition. She was one of six athletes that competed in the senior division at the City of Jesolo Trophy competition in Jesolo, Italy. The team posted a combined score of 164.065 to win the team title.
Through AHVA, Mueller has the ability to attend school online and achieve her academic goals while also training at a very high level. AHVA is a credentialed K-12 learning provider through the state of Minnesota that uses the approved Anoka-Hennepin curriculum. The online school option supports students with a team of licensed education and guidance professionals, committed to meeting the academic, social and post-secondary needs of each Virtual Academy student. Students in grades K-8 may enroll full-time for the school year, while secondary students have the flexibility of choosing full- or part-time schedules.
"It gives me flexibility to attend national team camps and competitions and also stay current with school on my timeframe," Mueller said.
Mueller has been in gymnastics for 14 years and said she has always wanted to compete at the highest level, especially after she was the all-around and beam champion at the Level 10 Nationals in 2019. The international competition in Italy was her first, but hopefully not the last.
"I was very excited for the opportunity," Mueller said. "It was an honor to represent Team USA. I wasn't expecting the opportunity to compete in Jesolo, so I was incredibly surprised and excited to represent my country. It truly was a dream come true!"
Individually, Mueller placed eighth out of 35 athletes in the all-around competition. In the qualifying round she placed top 10 in the apparatus beam (sixth), apparatus floor exercise (eighth) and the apparatus bars (ninth). Unfortunately, she didn't advance because only two athletes from each country moved on to Sunday's final round.

About the trip, Mueller said she enjoyed "competing against gymnasts from other countries, enjoying amazing food, bonding with my National Team teammates and achieving a lifelong dream! We brought home the gold!"
All AHVA students are welcome to participate in extracurricular activities and have access to special education, talent development and English Learner (EL) programming, if eligible. Advanced elective courses are available to high school students for credit. Computers are provided to every student, and teachers use a variety of learning formats to help students achieve, including webinar discussions, online forums, video chats and independent work.
View the USA Gymnastics recap, results and photos from the team competition day.
Learn more about Anoka-Hennepin Virtual Academy: ahschools.us/virtualacademy.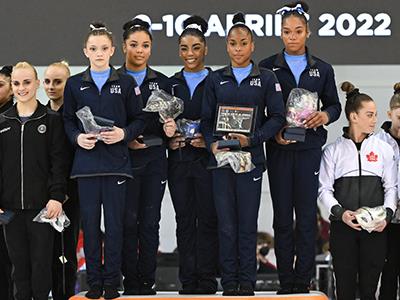 (Elle Mueller on the left with Team USA)