Return to Headlines
District students interested in teaching careers participate in Education Day event at Anoka-Ramsey Community College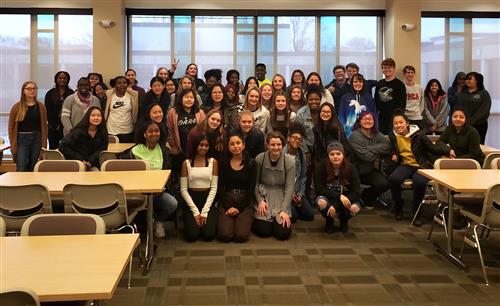 (01/09/20) Anoka-Hennepin high school students interested in pursuing careers in teaching had the chance to participate in a pretty unique event recently.

On Jan. 7, more than 50 students representing Andover, Anoka, Blaine, Champlin Park and Coon Rapids high schools, attended the first-ever Anoka-Hennepin Education Day event, held at Anoka-Ramsey Community College in Coon Rapids.

The event, according to Lori Brumbaugh, a Family and Consumer Sciences (FCS) teacher at Champlin Park, was really geared toward district high school students who are interested in the teaching profession, and who wanted to learn more about Anoka-Hennepin's one-trimester Foundations of Education class.

"Our students who attended — they were so excited to learn more about being teachers," Brumbaugh said. "And beyond that, they really enjoyed going to campus and seeing what a college campus was like."

During the two-hour field trip, students had the chance to hear from district teachers about their experiences, current Anoka-Ramsey students about their post-secondary journeys, and then participated in breakout sessions devoted to learning more specific teaching disciplines, such as elementary versus secondary teaching, special education or counseling.

The Foundations of Education course that's offered at all five high schools is a concurrent enrollment class, and provides students three-credits at Anoka-Ramsey in addition to being an elective in their high school. In the class, Brumbaugh said, students learn more about the teaching profession, and even have the chance to accrue 30-hours of practical internship experience. Plus, as concurrently enrolled students at Anoka-Ramsey, they have all the perks of being a part-time college student on campus. "It's a really amazing experience for students," Brumbaugh said.

Getting students excited about teaching as a profession is a passion for Brumbaugh. She said in her 26 years teaching FCS, and teaching various forms of education classes, she's thrilled to be able to offer a course like Foundations of Education, which provides students with college credits and internship experience.

"All over the district, we have teachers who have graduated from our (FACS) programs," Brumbaugh said. "And being able to offer something like this, where students and future teachers can get articulated credits — it has really been a goal of mine for a long time."

For more information about Anoka-Hennepin's Foundations of Education course, contact a school counselor at your high school.