Return to Headlines
Adult learning program honored with international award in lifelong learning for best programming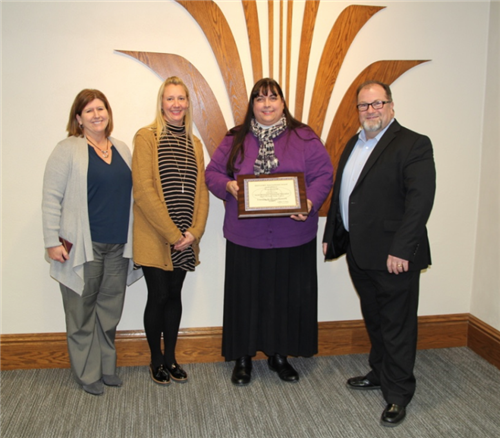 The Anoka-Hennepin Community Education adult learning program recently earned an International Award in Lifelong Learning for Best Programming by the Learning Resources Network (LERN), the largest national community education association in the world.

Noella Fath-Cutter, coordinator of adult learning programs, accepted the award Nov. 8 in Savannah, Ga., on behalf of the Anoka-Hennepin Community Education adult learning team, which is comprised of Fath-Cutter, Kristy Mattys and Lupita Forsyth. The adult learning program was also recognized at a recent Anoka-Hennepin School Board meeting, Nov. 26.

The award was only one of 20 given at LERN's annual conference, and was attended by more than 650 professionals in lifelong learning from three countries. "The award is for innovation in the field of community education and serving communities," LERN President William A. Draves, said. "These awards enhance the quality and involvement in lifelong learning, an absolutely critical component to individual and community quality of life and prosperity in this century," he noted.

In the fall of 2016, the adult learning team had attended presentations by the Minnesota State Demographic Center,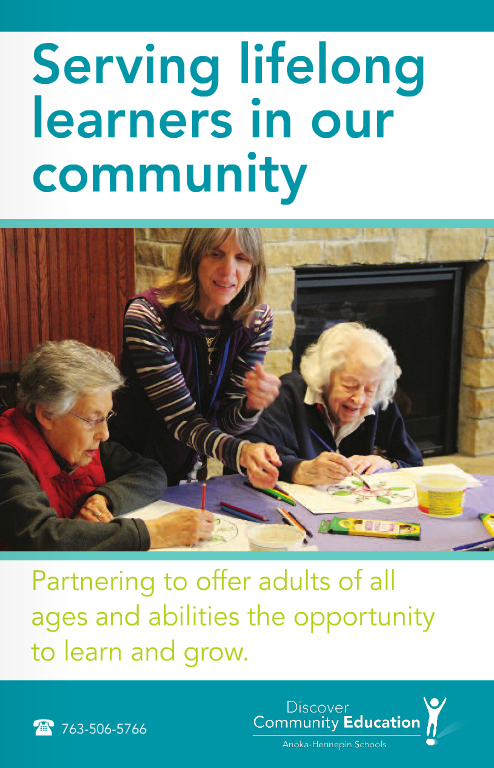 sharing statistics such as the number of Minnesotans turning age 65 in this decade will be greater than the past four decades combined. The adult learning program staff conducted a needs assessment to learn more about the needs and preferences of individuals ages 55 and up in our community.

"Our team followed the LERN best practices for program development and making data driven decisions as part of this process," explained Fath-Cutter, coordinator of the adult learning program.

Based on the assessment, the team began researching ways to provide more daytime programming and developed partnerships with independent and assisted living facilities in addition to local community partners.

"Our goal was to offer courses that would appeal to this demographic in an effort to increase program participation and attract new customers," Fath-Cutter said. "This effort includes the classes in our daytime program, partnerships with the assisted and independent living facilities, and Park and Recreation in the city of Brooklyn Park [in addition to] increased outreach opportunities through participation in Senior Expos and the development of marketing materials."

As a result, revenue from class registrations tripled, making the cost of the program sustainable, classes more accessible to a growing "boomer" population in our community, and increased community integration in assisted and independent senior residences that community education has partnered with.


"This program used LERN's needs assessment model to determine that almost 70 percent of participants would be interested in attending daytime classes and an equal number preferred short classes of 1-2 sessions," Draves noted, while presenting the award. "The data-driven decisions from the needs assessment produced daytime classes and tripled registrations for adults ages 65 and up over the past two years."

Anoka-Hennepin Community Education offers hundreds of classes year-round during the daytime, evening and weekend for adults ages 18 and up. Activities and classes are held in schools and local businesses throughout the school district's geographic area. The Adult Learning program provides activities and classes or adults who want to:

• acquire a new skill,
• explore new interests and hobbies,
• enrich their personal or professional lives,
• improve health and achieving fitness goals,
• strengthen personal and family relationships,
• learn and improving business skills,
• or gain computer and technology proficiency.
Learn more about adult classes and activities coordinated by Anoka-Hennepin Community Education.
Related links
Learn more about the Learning Resource Network (LERN)
View daytime classes for adults, offered by Anoka-Hennepin Community Education
View all adult classes and activities, coordinated by Anoka-Hennepin Community Education
Brochure: Serving lifelong learners in our community