Return to Headlines
Community Wellness Day offers free events for the entire family

Anoka-Hennepin Community Education
will host the eleventh annual
Community Wellness Day
event Sat., Jan. 26 at Coon Rapids Middle School. Community Wellness Day aims to help residents learn more about healthy lifestyle habits by connecting them with local resources, partners in health, and ideas to improve health and wellness for the whole family.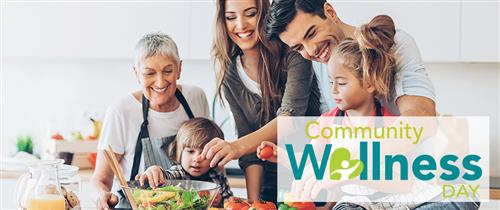 The event is FREE for the entire family! Activities and classes promote good health for people of all ages:

Join us!

Saturday, January 26 from 9 a.m. - 1 p.m
Coon Rapids Middle School
11600 Raven Street NW
Coon Rapids, MN 55433
Over the past eleven years, Anoka-Hennepin Community Education has worked hard to bring opportunities to improve quality of life through wellness – in traditional and untraditional ways – to our participants and community members through Community Wellness Day. This year, we hope you think some of the opportunities are just as unique:
Arts: We offer activities including music, reading, writing, painting, sculpture and various other creative outlets have been shown to reduce stress. Learn how dabbling in arts activities can improve your health.


Being your best: David Law, Superintendent of Anoka-Hennepin Schools will share the importance of living a balanced life in order to be your best professionally, and personally. He will share practical tips and strategies on how to leverage your time, talent and energy to take care of yourself in order to be your best.


Movement: Although exercise and fitness are an important factor in physical well-being – it doesn't have to feel like work. At Community Wellness Day, we offer a wide variety of fun opportunities, including POUND, Tai Chi and Yoga.


Good food: Making healthy choices fuels your body, but it isn't always easy. This year, we will offer sessions to learn how to "pick your produce," and we will join Minneapolis-based Facebook cooking show hosts, Coco and Lala, to learn easy and affordable ways to incorporate plant-based alternatives in your diet.


A clear mind: Learn about the benefits of mindfulness for yourself and your family, with a variety of tips and techniques to find balance.
Participation in all sessions is free, but registration is recommended. Walk-in participants will be accommodated as space allows. Register online or call 763-506-1260 for more information.