Return to Headlines
Over 400 students participated in the first-ever school-wide service project at Coon Rapids High School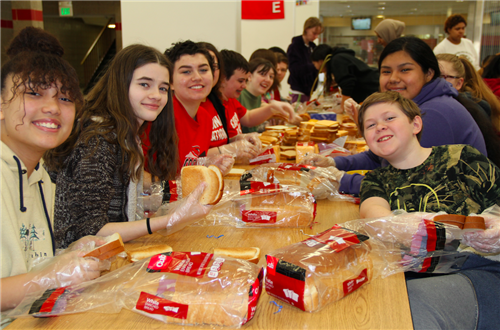 Kindness is a theme at Coon Rapids High School (CRHS) – and service projects have given students the opportunity to spread kindness throughout the school – and the community – all year long.

For the second year in a row, CRHS has celebrated Random Acts of Kindness Week, which fell February 11 – 15 this year. As the school leadership team worked to plan this year's events, dubbing it "Kindness 2.0," they reached out to CRHS youth service coordinator, Stefanie Nelson, for assistance from the LEO Club.

LEO Club students were asked to support the project this year with creative ideas, and the students came back with a big goal in mind: school-wide service. Nelson knew the idea was ambitious, but with the help of the school Link Crew, supportive teachers and school staff, the idea came to life Friday, Feb. 15. "Our LEO Club and Link Crew students really helped our school community navigate and be leaders of those projects," explained Nelson.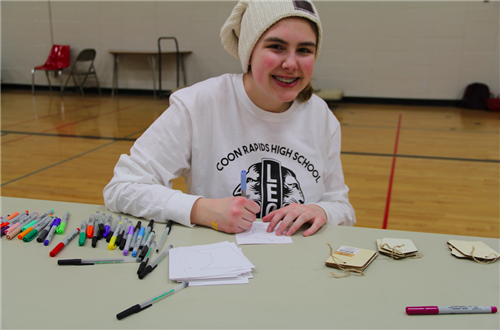 Thirty minutes of the school day were designated to give students the opportunity to opt-in to participate in a service project by grade, and over 400 students became part of the school-wide service project that day.
Random Acts of Kindness week projects included:
ninth-grade students assembling 1,420 sandwiches for donations to The Sandwich Man for homeless people in need in Minneapolis,
tenth-grade students working to make 16 fleece tie blankets for the Avenues,
eleventh-grade students assembling 100 care packages to be sent to members serving in the military overseas,
and twelfth-grade students standing outside in the cold to raise awareness of youth homelessness, while securing $100 worth of McDonald's gift cards and $745 cash donations for Hope 4 Youth.
"This gave our students an opportunity to build community within our own school, and exposed many them to issues some haven't seen or have been aware of before," Nelson said. "We have students here that want to get involved and help, and the first step in service is giving them those opportunities."


Anoka-Hennepin Community Education coordinates youth service activities and projects at all high schools. A Youth Service Coordinator at each high school coordinates meaningful leadership and service opportunities, trips and projects benefiting the community. Learn more about the Anoka-Hennepin Schools youth service program on the Anoka-Hennepin Community Education website.