Return to Headlines
SHIP grant allows Adventures Plus staff and students to stretch and grow programming opportunities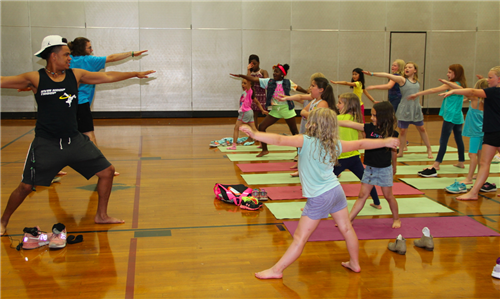 Adventures Plus school-age care is excited to stretch and grow programming opportunities, thanks to a Statewide Health Improvement Program (SHIP) grant which provided funding for all program staff to attend a training to learn how to teach students yoga this summer.

SHIP funds provided each summer Adventures Plus site – or 17 schools - with $300 worth of yoga supplies including mats, breathing balls, training posters and more. In addition, the Coon Rapids Emma B. Howe YMCA branch created a special training program for Adventures Plus staff, utilizing the Little Lotus yoga program. YMCA instructors have visited each of the summer Adventures Plus program sites twice over the summer months in order to implement the program so both staff and students can comfortably lead classes, even if they have not been exposed to yoga before. The YMCA training is paid for with SHIP funds, as well as grant funding from the YMCA.

"Overall, the vision that we had is happening," said Jennifer Gilbert, Anoka-Hennepin Schools Wellness Specialist and SHIP Coordinator. "I have talked with our staff and students, and it is clear that they are benefitting from the resources."

Yoga in the Adventures Plus program typically gives students the choice to participate in a "Yoga Club," or pop in to try it as an activity that is part of their daily schedule. Students are invited to share a personal "fun fact" about themselves in a "sharing circle," before trying a variety of poses and practicing breathing techniques. Students are also invited to practice their leadership skills by demonstrating yoga poses during the class.

Gilbert says that students reported the incorporation of yoga helps them work through emotions such as anger and anxiety. Staff have shared that they believe yoga is a great tool for students if they feel overstimulated during a busy day, and they are able to coach students by understanding the connection between breathing techniques and social emotional learning.

"What I love most about this program is seeing kids take time to slow down, try something new, and quiet their busy young minds," Gilbert said. "Today's fast-paced lifestyle often leaves kids overstimulated and exhausted. I'm grateful that we were able to partner with generous community organizations to provide these tools to positively impact our students in their physical and emotional wellbeing."

Adventures Plus school-age care is coordinated by Anoka-Hennepin Community Education. Learn more at www.ahschools.us/adventuresplus.