Return to Headlines
Register now for fun after-school classes and activities at your child's school!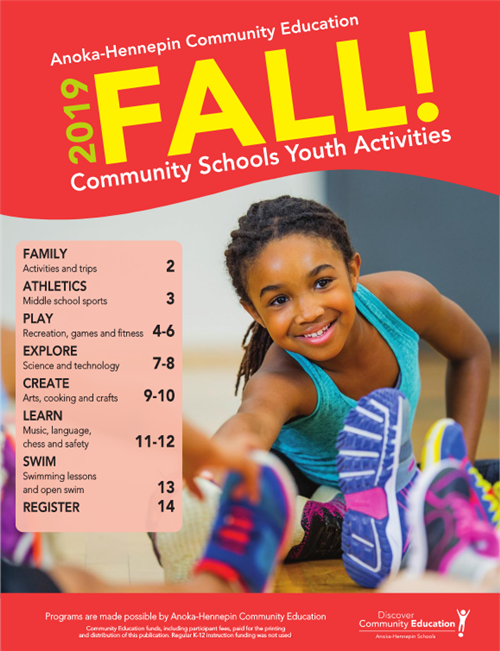 After-school activities and classes give students a chance to meet friends and learn new skills while they are having fun! Anoka-Hennepin Community Education coordinates opportunities at Anoka-Hennepin School District elementary and middle schools. The fall catalog featuring after-school classes and activities for students in grades K-8 was mailed to homes this week, and registration opened Monday, August 12. View the new fall catalog.
Families are welcome to enroll in enrichment opportunities offered at their child's school, or at any school, districtwide. Students who qualify for free or reduced priced meals may pay a reduced fee. See catalog for more details.
New this year!
For the first time ever, the fall catalog includes enrichment classes and activities for elementary school students. You will find most fall Community Education opportunities for youth in this catalog, but more are listed online. (Due to continuing construction, classes and activities at Brookside and Sunrise Elementary Schools will be listed on the Anoka-Hennepin Community Education website in September.)

By making these changes, we hope this catalog serves as a one-stop resource for families considering arts and crafts; athletics, sports and recreation; swimming lessons; STEM; language and performing arts; or field trips and non-school day activities for their children. Families are welcome to enroll in enrichment opportunities offered at their child's school, or at any school, districtwide.
Middle school athletics
Middle school athletic programs are coordinated by Anoka-Hennepin Community Education at each middle school. Sports are supervised and led by certified coaches, licensed teachers and/or knowledgeable staff who emphasize skill development, participation, teamwork, leadership, social growth, sportsmanship and respect for others.
Teams are formed based on each player's skill level. Teams practice after-school and compete against other Anoka-Hennepin middle schools. Equipment and uniforms are provided for most sports, and activity busses provide students with transportation home Monday - Thursday. Parents are responsible for transportation on Fridays and after games.
Students must have a sports qualifying physical (valid for three years from the date of the exam) on file to participate in middle school athletic programs. Immunizations and well child check-ups are not the same as a physical. The form is available online at www.ahschools.us/msathletics or may be picked up at your school's community education or health office.
Don't miss out!
A community education office at each elementary and middle school in the district coordinates enrichment classes and activities after-school, in the evening, on the weekend and on non-school days. Subscribe to receive monthly updates about after-school opportunities at your child's school.