Return to Headlines
Adventures Plus summer programs and SHIP funds give students new opportunities to dig into learning about fruits and vegetables with "Farm to School" curriculum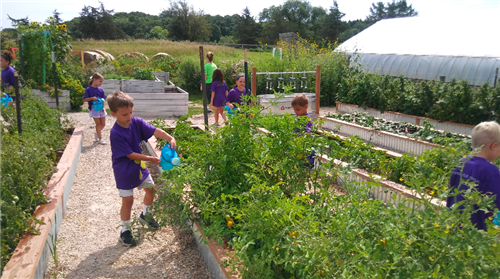 Funding from the Statewide Health Improvement Partnership (SHIP) gave Anoka-Hennepin Community Education the opportunity to plant a "farm to school" curriculum in the Adventures Plus school-age care program this summer.

This summer, students have harvested a wealth of knowledge about fresh fruits and vegetables. Jennifer Gilbert, Anoka-Hennepin Schools SHIP Coordinator and Wellness Specialist, shared that many children may not always understand that the shiny, colorful produce that we pick up in the grocery store (sometimes even in a branded, plastic bag) actually starts by planting a seed in the dirt. The Farm to School curriculum and activities that the Adventures Plus school-age care program led this summer not only taught students about the growth cycle of produce from seed to sprout, but also gave students hands-on learning opportunities to dig into how those fruits and vegetables provide essential nutrients for our bodies to grow.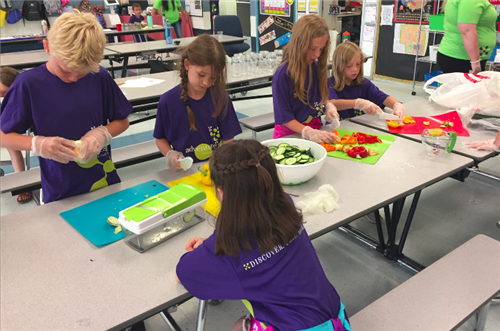 The Farm to School curriculum supplied Anoka-Hennepin Community Education with more than $7,000 to purchase kitchen kits for all summer Adventures Plus school-age care sites. The kits supplied all the tools needed for students to clean, prepare, cook with and sample fresh fruits and vegetables, straight from local gardens.

Kitchen kits were equipped with child-safe knives, cutting boards, mixing bowls, measuring cups, mandolin slicers, measuring spoons, blenders, microwave cookers, peelers, corers, zesters, wash tubs, serving tongs, colanders and veggie scrubbers. "In today's world of convenience with pre-cut and packaged vegetables, one of the things we have lost is time together in the kitchen," Gilbert said. "It was great seeing students gathered around the table all having a task while site leaders taught them how simple and fun it can be to prepare your own food."

Students had the opportunity to participate in a variety of activities while learning about what a plant needs to grow and how it provides our bodies with essential nutrients, including:
Field trips to local farms.
Planting and caring for seeds.
Sampling a rainbow of new fruits and vegetables, including jicama, celery, star fruit, dragon fruit, snap peas, pumpkin seeds, plantains, stone soup, asparagus, sweet potatoes – to name a few.
Cleaning and preparing fruits and vegetables for snacks – including mango salsa, fruit smoothies, guacamole, homemade fruit roll-ups, dried apples, making pickles from cucumbers, and cooking corn on the cob in a cooler.
Reviewing maps and talking about seasons and how weather impacts where produce can be grown and that the produce in our grocery stores can come from local, regional or national farms.
The curriculum has truly planted a seed in helping students grow and share what they have learned with their family and friends. "The kids in my group loved cooking and trying new foods," Dawn Redpenning, site leader and Andover Elementary School, said. "[They] even asked for the recipes for the things that we made."

In post-program surveys, one parent said, "I will have to make Stone Soup at home, I have never seen my daughter eat so many vegetables!"

"Kids really are willing to try just about anything when they are together and there is excitement built around what they are tasting," Gilbert said. "I believe many kids sampled foods during this project that they would've never tried at home despite parents begging and pleading. It's a positive form of peer pressure."

Adventures Plus is the Anoka-Hennepin School District's school-age care program, coordinated by Anoka-Hennepin Community Education and offered to all families in the school district and provided at each elementary school. (Only select sites over the summer months.) Care is available before- and after-school, and on non-school days which include winter, spring and summer breaks.