Return to Headlines
Adventures Plus student, Skyler Hoheisel, and advisor, Jill Peterson, serve as state ambassador at National Fuel Up to Play 60 Summit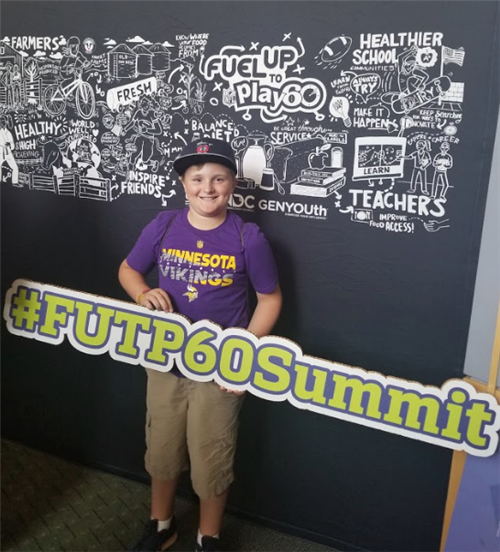 Skyler Hoheisel, now a sixth-grade student at Roosevelt Middle School, who was previously enrolled in the Adventures Plus school-age care program at McKinley Elementary School, served as a state ambassador at the national Fuel Up to Play 60 (FUTP 60) Summit in Cleveland, Ohio, this past July. Adventures Plus site coordinator at McKinley Elementary, Jill Peterson, was able to accompany Hoheisel on the trip as they met other FUTP 60 advisors and students from across the country.
Peterson shared that students and advisors listened to inspirational words from the National Dairy Council; the National Football League (NFL); Olympic boxer, Claressa Shields; Detroit Lions linebacker, Devon Kennard; President of the Football Hall of Fame, David Baker; and Football Hall of Fame member, Anthony Muñoz.
Hoheisel and Peterson visited a local dairy farm while attending the summit, to learn what farmers do on a daily basis to provide communities across the country with dairy products. Afterward, students competed in a grilled cheese cook-off (Hoheisel's team took third place) and advisors competed in a breakfast coook-off (Peterson's team took first place, creating a breakfast quesadilla). Teams also built 40 bicycles at the summit, to be given away at ten Cleveland Public Schools. To wrap up, all attendees visited the First Energy Stadium and were able to play flag football on the field with the Cleveland Browns football players, before attending an award ceremony and performing a dance the students choreographed with their new friends.

FUTP 60 is a leading national in-school health and wellness program launched by the NFL and the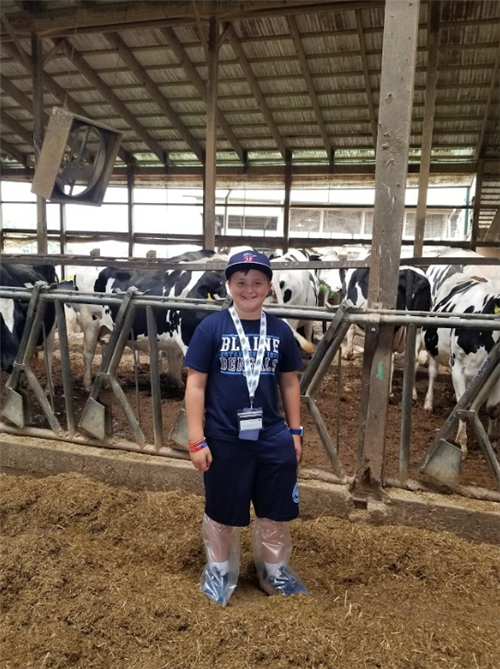 National Dairy Council in collaboration with the United States Department of Agriculture (USDA). The primary focus of FUTP 60 is to help schools meet their wellness goals and encourage youth to consume nutrient-rich foods and achieve at least 60 minutes of physical activity each day.

Hoheisel hopes to work with staff to build a FUTP 60 program at Roosevelt Middle School. Peterson also learned new team-building activities at the FUTP 60 Summit, which she intends to bring back to the Adventures Plus program at McKinley Elementary School. In addition, Peterson just learned that their program will be awarded with $3,200 in grant funds from Fuel Up to Play 60 to purchase pedometers, jump ropes and weights for students to use in a new walking club, and soccer goals to use for outdoor activities.

The Adventures Plus school-age care program at McKinley Elementary is in its second year of incorporating FUTP 60 efforts. Hoheisel served as a school FUTP 60 leader based on his positive behavior, leadership skills and commitment to the program.