Return to Headlines
Andover High School students receive national "Jefferson Award" for service work
Last week, the Andover High School (AndHS) Leo Club learned that it received a Bronze Award in the national Jefferson Awards competition for their work focused on environmental sustainability in their school community.
Each year, high school Students in Action teams from across the country share their impact project with a panel of community judges to compete at a regional level, and then advance to the national competition if their project is selected. Students in Action is a unique youth service, leadership and recognition program that supports, trains and empowers youth to be leaders, problem solvers, entrepreneurs and impactful global citizens. Anoka-Hennepin Community Education coordinates youth service activities and projects at all district high schools.
After winning the regional competition last spring, the AndHS LEO Club would have advanced to the national competition in Washington D.C. under normal circumstances. Due to COVID-19, the team submitted a video presenting its service work to compete nationally, and then organized a viewing party to safely celebrate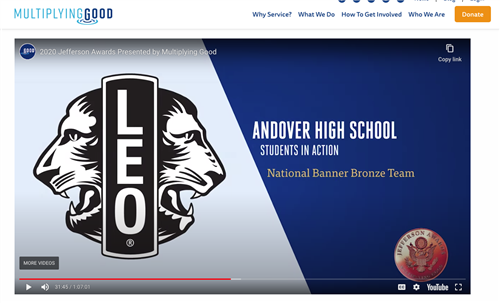 and witness the national awards via virtual ceremony (view AndHS at 31:20), and hope to attend in-person for additional recognition in June 2021.
Sofie Sherburne, senior at AndHS, said, "We were so proud that we were able to finish nationally, it shows the impact that we can have – even if we are just in our little city of Andover." Sherburne originally joined youth service programs her freshman year of high school, when she decided she wanted to prioritize service throughout her high school career.
The group worked throughout the year and honed additional focus by hosting "Environmental Sustainability Month" at their school in February. The group worked to educate their peers about the issues, increase awareness about how they could make a difference, and provided opportunities for their fellow students and staff to join them in helping the environment by reducing waste, using reusable water bottles, going paperless or carpooling to school. The group raised $1,575 for the World Wildlife Foundation on behalf of the school and provided students with reusable straws and water bottles as prizes.
Their work didn't stop when Environmental Sustainability Month wrapped at Andover High School, or when COVID-19 shut down schools and businesses across the country.

"We definitely ran into some challenges, but we realized that we need to help people more than ever," explained Dawson Clifton, AndHS senior. Throughout the spring and summer, students involved in service projects at the school kept in touch to organize virtual road clean-up activities and developed a pen pal program with senior citizens in the local Lions Club in an effort to minimize isolation and continue building upon their service partnerships in the community.
Not only are the students making a difference – they are developing valuable skills. "I have always enjoyed giving back and volunteering in different ways, but this is different because we can plan our own projects and come up with the ideas ourselves," Clifton said. "We are able to learn about making a plan of action and setting goals. From start to finish, the projects and ideas are student-created and student-led, which I really enjoy."
Looking toward the future and the 2020-21 school year, the students are already eagerly planning service projects as they began their first week back at school, in-person, in the hybrid learning model. "In some ways, I think our work will be easier this year because we have more time; but in some ways it will be harder because we have to socially distance and complete our projects without interfering with the health and safety rules in place," Sherburne said.
The group hasn't formally identified their impact project for the year, yet, but know there are many issues in our community that deserve attention. Clifton encourages other students and community members to remember: "The things we do can make a difference, and the small things add up."