Return to Headlines
Blaine High School youth service students share positivity project to support peers
(3/11/21) A friendly note or pat on the back can go a long way, especially if you need a boost. When high school students came back to school this fall, members of "Bengals in Action," the youth service group at Blaine High School (BHS), began collaborating to design a shared positivity project - with the hope and intention of creating a safe and uplifting space for their peers.
"Some of the students in our group were feeling really passionate during this time of the COVID pandemic and wanted to spread more positivity and create a place that students could go to," Kaitlyn Owens, sophomore at BHS, shared. As state health and safety guidance shifted and schools moved to distance learning, Owens and her classmates in the 'Bengals in Action' group also pivoted their planning efforts, and began creating "Take what you need," a Google Slides presentation, online - assigning each contributing member a unique section to be responsible for, including confidence, encouragement, happiness, love, support and mindfulness. In addition, they connected with the school counselor to identify reliable resources for adults looking for ways to support teens and young people in their lives.
With the help of their advisor, Mollie Ziebart, teachers at Blaine High School began including the link to the presentation in their Google Classrooms for students at the school to access, and the Bengals in Action members were able to share information and updates about the resources through the daily school announcements.
When students returned to school in-person just a few weeks ago, the Bengals in Action group began brainstorming how they could expand upon their project, and the efforts morphed into a bulletin board that students could see and use in the hallway at school. "We stapled envelopes for each category on the bulletin board, and anyone can walk up and take a card from inside if they need to feel better for a bit," Owens explained. Each card has its own unique flare and personality, as it was created by other students, at home – in their spare time.
"I'm really proud of the time and effort that the students have put into making the positivity project successful," Ziebart said. "We see that cards are being taken – it's being used, and we have received a lot of positive feedback on the work from our school community."
Bengals In Action is the youth service group at Blaine High School, coordinated by Anoka-Hennepin Community Education. A Youth Service Coordinator at each high school coordinates meaningful leadership and service opportunities, trips and projects benefiting the community. Learn more by visiting ahschools.us/youthservice.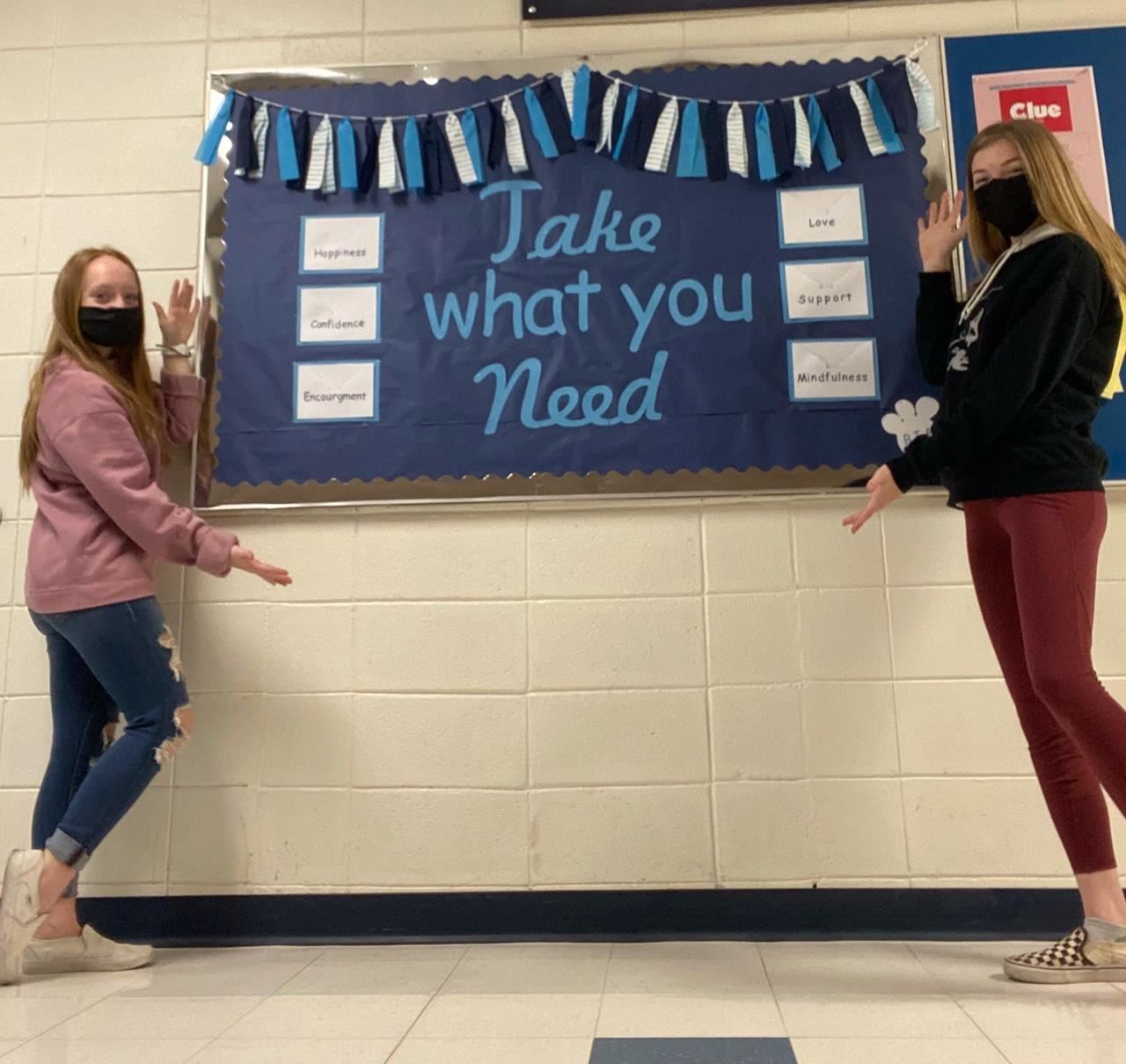 Pictured: Blaine High School sophomores, Kaitlyn Owens and Emmalee Oberg, show their recent work on Bengals in Action youth service project, "Take What You Need."