Return to Headlines
Afterschool Professionals Appreciation Week is April 19-23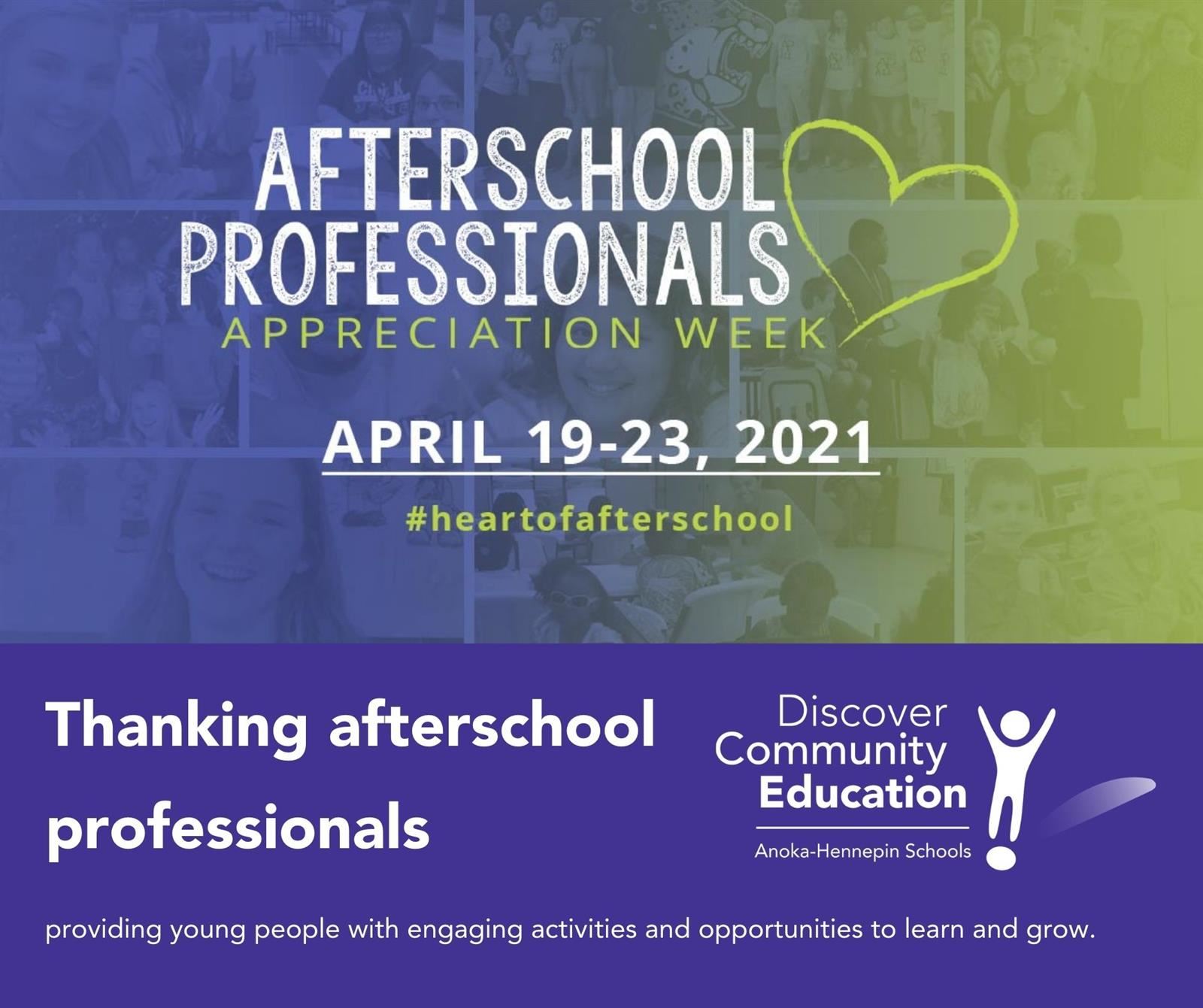 Join us in thanking after-school professionals who make a positive impact on the lives of young people, in honor of Afterschool Professionals Appreciation Week. Anoka-Hennepin Schools appreciates all that after-school professionals, such as school-age child care program staff; and coordinators, programmers, instructors and coaches, do to support our schools, students, staff and our communities.

The National Afterschool Association (NAA) estimates that 10.2 million children participate in after-school programs each year, and an estimated 850,000 professionals make a difference in the lives of those children.
Community Education plays a critical role in helping young people grow from children to teens. Youth-focused programs provide more than just education or entertainment - they contribute to a safe and healthy community by providing youth people with engaging activities and opportunities to help them learn and grow:
Activities and enrichment: Each elementary and middle school in the Anoka-Hennepin School District has a Community Schools office which coordinates a wide variety of courses, clubs, camps and clinics to enhance your child's academic and social experiences while away from school. Families are welcome to enroll in enrichment opportunities offered at their child's school or at any school, districtwide. Activities are offered after-school, in the evening and on the weekend.
"We recognize that the programs offered after-school provide support for our students during the school year and all year long," Michelle Trelstad, Director of Community Education, said. "We appreciate the work our staff do this week, and all year long, to support youth and build collaborative partnerships in our schools to enhance our neighborhoods and communities."


Learn more about Anoka-Hennepin Community Education programs, activities and classes.