Return to Headlines
Anoka-Hennepin coordinator recognized as Community Educator of Excellence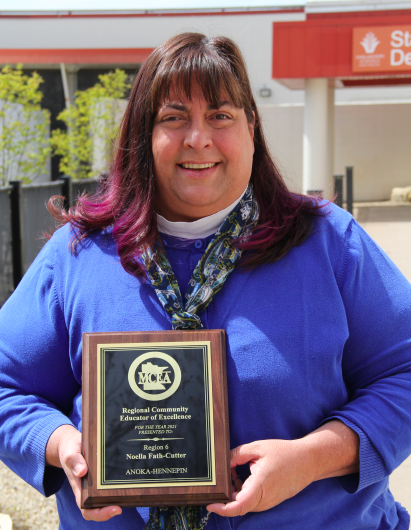 Noella Fath-Cutter, coordinator of adult learning programs for Anoka-Hennepin Community Education, was recently recognized with a 2021 Regional Community Educator of Excellence award from the Minnesota Community Education Association (MCEA).

For the award, MCEA recognizes and celebrates outstanding contributions made by practitioners and supporters of community education from across the state of Minnesota. Nominees represent the best of the best: persons committed to working together, creating opportunities, persisting through challenges and partnering with others.

"Noella's award is richly deserved, as she continues to go above and beyond in helping her adult learning and adults with disabilities programs achieve success," Theresa Zingery, manager of adult programs, said. "During the pandemic, she has worked tirelessly to adapt what we were doing for the new reality – with more digital programming, and shared classes across both our area and the country."

The nomination for Fath-Cutter acknowledges the wide range of achievements she has accomplished in her career at Anoka-Hennepin, in addition to a total of 30 years of community education experience and expertise factoring in her past contributions in Elk River and St. Cloud community education programs. Since working in Anoka-Hennepin, Fath-Cutter has provided leadership in securing grant funding for activities and launched new efforts to increase programing and participation within the baby boomer population in our communities by partnering with local assisted living facilities, nursing homes and municipal park and recreation programs to more effectively reach seniors.

Fath-Cutter's work for the Anoka-Hennepin adult learning program has also been acknowledged by the Learning Resources Network (LERN) with an International Award in Lifelong Learning for Best Programming.

Fath-Cutter was recognized with the Regional Community Educator of Excellence award at a recent virtual MCEA conference and she received the award via mail. "I've been fortunate to have good mentors and great teams to work with in various places," she said.