Return to Headlines
Celebrating Metro North Adult Basic Education graduates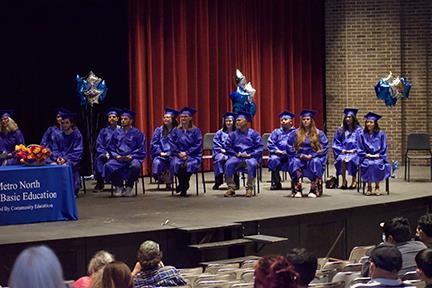 (9/23/21) A long-awaited celebration played out with all the pomp and circumstance Metro North's Adult Basic Education graduates deserved. It was June of 2019 — before COVID-19 — when the last in-person graduation took place. More than two years later, students from three different graduating classes were given the opportunity to be recognized for their hard work.
Sporting caps, gowns and tassels, those who chose to walk the stage on September 16 collected their GED or adult diploma with huge smiles on their faces. Meantime, enthusiastic cheers and rounds of applause came from family, friends, and staff who were there to support them.
"We're here to honor and celebrate your successes," said Theresa Zingery, Community Education Manager. "Not only did you meet the standards required to get a GED or high school credential, you also demonstrated true determination, courage, strength and persistence in pursuing your dream, particularly in a year as challenging as the one we've just been through."
Anoka County Commissioner Mandy Meisner spoke about the perseverance and determination it took for these non-traditional students to achieve their academic goals.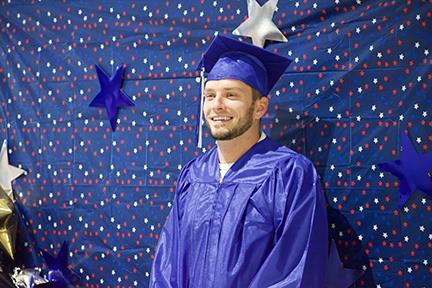 Several graduates also spoke about their educational experiences during the ceremony. Jake Johnson was a year into his studies and testing when the pandemic changed everything.
"Pursuing my goal to get my GED became a much harder task. I learn more efficiently in a classroom setting, one-on-one with a teacher or tutor, but suddenly I had to become familiar with distance learning at home which took from me a new level of discipline," said Johnson.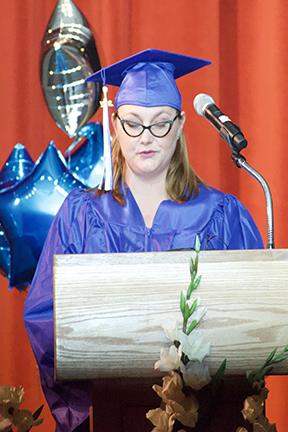 Each story was a testimonial to the many hurdles these graduates faced. Belle Larson described her early years as tumultuous. At 15, she left home and dropped out of school due to family problems. Larson overcame domestic abuse, moved halfway across the country alone, and raised six children as a stay-at-home mom. Through it all, she carried with her one central goal of furthering her education.
"While the plans we make in our youth don't often play out in the ways we'd like them to, we are sometimes afforded the second chance needed to realize our success and overcome obstacles," said Larson. "Metro North ABE gave me the chance to rekindle my passion for learning and to believe in myself again."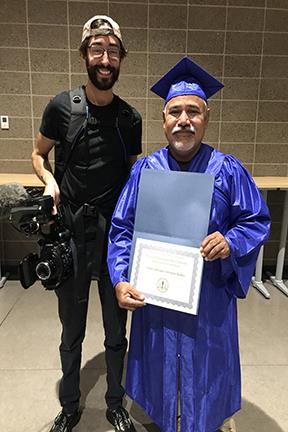 Also attending the ceremony was Minnesota filmmaker James Christenson. He was there to document the journey of graduate Carlos Urrutia who earned his GED while serving time as an inmate in a county jail. Christenson focused on Urrutia as he addressed the audience.
"Thanks to people like Miss Leah (his teacher) and this program, Adult Basic Education, I can be a role model to my kids — despite all the mistakes I made in the past," said Urrutia.
Christenson's short film 'To Be Reconciled' follows Urrutia as he reflects on faith, recovery and redemption. He is hoping to turn the Spanish-speaking immigrant's story into a feature length film.
"I will not let my past define me," Urrutia said during his graduation speech. " I just want to take an opportunity to thank everyone who works in this program — who works hard everyday to give people a chance to change."
Watch a short video showcasing the 2021 Adult Basic Education (ABE) graduation ceremony.