Return to Headlines
Celebrating Community Education Day: There's a Place for You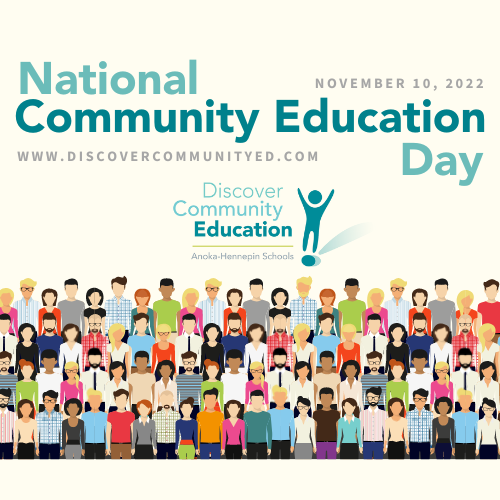 (11/10/22) Community Education plays an important role in our schools and our communities. For more than 50 years, people of all ages have enjoyed and benefited from classes, programs and activities that inspire, teach, entertain, and engage.
Each year, on the second Thursday in November, Community Education programs across the country celebrate National Community Education Day.
The formal movement of Community Education began in Flint, Michigan when teacher Frank Manley saw the untapped potential in school buildings that sat unused after regular classes ended. His dream was to improve the community by making the local schools a focal point for health, recreation and adult education classes.
Today, Anoka-Hennepin Community Education reaches more than half a million people every year by offering hundreds of exciting and useful lifelong learning opportunities. Our mission is to involve people and enrich communities. Through classes, services, lessons, programs, outreach activities and athletics, residents young and old interact with Community Education every day in a positive way. We are committed to finding a place for YOU in our community!
Explore our classes and activities.
Fun facts!
During the 2021-22 school year:
There were 11,653 registrations for adult learning classes.
Metro North Adult Basic Education (ABE) learners attended class in-person and online for 206,632 total hours.
Hours generated by volunteers totaled 119,452.
1,463 preschool students were served.
1,317 home school students were enrolled.
6,132 students participated in service projects.
Enrollment in middle school athletics and all ages of youth enrichment programs was 10,540.
And more:
2,800 children are enrolled in Adventures Plus school-age child care for the 2022-23 school year.
The most popular Adult Learning category is Fitness!
Anoka-Hennepin Schools has over 120 booster clubs and PTO groups.
There are 32 preschool classrooms in the district.
We introduced a new series called 'Putting U in Community Education'. We'll be sharing stories highlighting the different ways people interact with Community Education. Watch stories from our 'Putting 'U' in Community Education' series.
Finally, we like to have fun in Community Ed, which led to this parody of an old, but popular, Garth Brooks song for National Community Education Day. Our vocals may not be stellar, but we sure had a blast telling the story of Community Ed in a unique way.
Watch our video "You've Got Friends in Community Education."