Return to Headlines
Anoka-Hennepin voters elect new school board members
(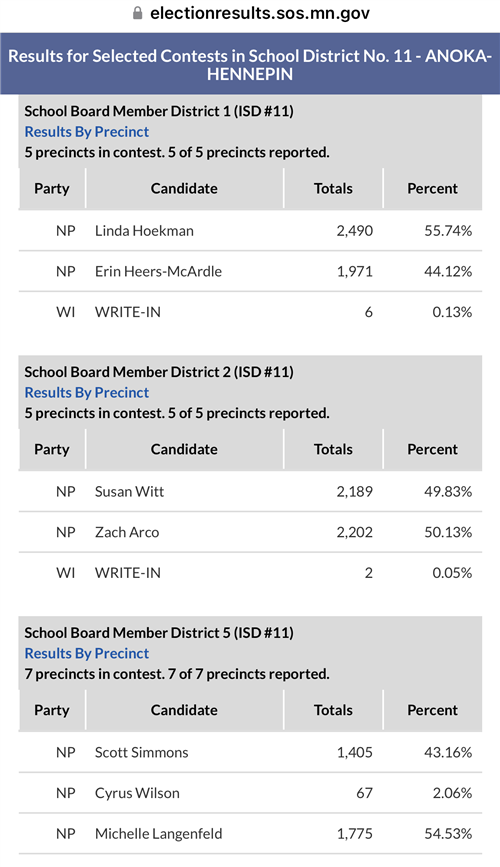 11/7/23) New members will fill three seats on the Anoka-Hennepin School Board beginning January 1, 2024. School board seats were up for election this year in Districts one, two and five.
Results obtained on election night are unofficial until approved by the Canvassing Board. The Canvassing Board meeting for the Anoka-Hennepin School District is scheduled for Monday, November 13 at 6:30 p.m. at Sandburg Education Center, 1902 Second Ave., Anoka.
Unofficial election results, according to the Minnesota Secretary of State website, are as follows:
In District one, which includes Anoka, western Andover, western Coon Rapids and southwestern Ramsey, Linda Hoekman received 2,490 votes (55.74%) and incumbent Erin Heers-McArdle received 1,971 votes (44.12%).


In District two, which includes Blaine and eastern Coon Rapids, Zach Arco received 2,202 votes (50.13%), while Susan Witt received 2,189 votes (49.83%).


In District five, which includes Brooklyn Center, Brooklyn Park, southern Coon Rapids and Fridley, Michelle Langenfeld received 1,775 votes (54.53%), Scott Simmons received 1,405 votes (43.16%) and Cyrus Wilson received 67 votes (2.06%).
Anoka-Hennepin School Board members serve a four-year term. Maps showing election districts are available on the Anoka-Hennepin Schools website. Voters may visit the Anoka County elections website for more information. Specific questions may be directed via email to elections@co.anoka.mn.us or by phone at 763-324-1300.

The Anoka-Hennepin School District is one of Minnesota's largest, serving approximately 38,000 students and 248,000 residents. Spread out across 172 square miles, the district is made of 13 suburban communities north of the Twin Cities of Minneapolis and St. Paul. Anoka-Hennepin has 25 elementary schools, six middle schools (grades six through eight), and five high schools, plus alternative middle and high school sites, in addition to Community Education programs.