Return to Headlines
Buddy benches such a popular fixture on Anoka-Hennepin playgrounds, some schools clamor for second bench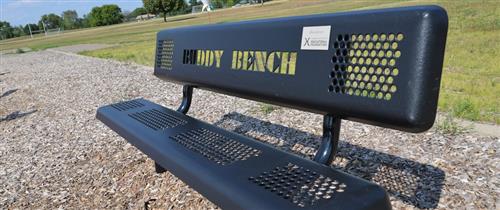 (11/14/18) In 2014, Anoka-Hennepin, thanks to a large grant from the district's educational foundation, installed buddy benches on the playgrounds of most elementary schools.

Buddy benches are exactly what they sound to be — they're a safe place for students to go if they are looking for a playmate or an activity to participate in during recess. In mere moments, their peers who see them sitting at the bench include them in activities and ask them to play.

Do they work? It seems so. During this year's kindness poster contest, where students at each grade-level across the district create posters focused on kindness using the "kindness works" theme, buddy benches were a common element of many posters. (File photo.)

"Every single year there's at least one poster that includes a buddy bench," said Stephanie Ochocki, the district's lead social worker who also organizes the kindness poster contest. "That's pretty amazing if you think about it — the kids have internalized the benches as a symbol of kindness on the playground and the power that it holds."

So earlier this year, when the Anoka-Hennepin Educational Foundation (AHEF) was approached by Linda Sell and Paula Mueller, who work for the Northtown Mall in Blaine, for back-to-school fundraiser ideas, the buddy benches came up.

"They wanted to do something besides a school supply fundraiser, and they had heard about buddy benches and how they've been a hit at our schools," said Tess DeGeest, the executive director of the AHEF.

Northtown Mall raised and donated more than $700 to the AHEF thanks to its fundraiser, enough to purchase two new benches. So DeGeest reached out to elementary school principals to see if there was an interest in schools getting a second bench. Turns out there was.

Nearly a dozen principals expressed interest, but Northtown chose Crooked Lake and McKinley elementary schools for the second benches. DeGeest said McKinley was chosen because the school has two playground areas, and the one where kindergarteners have recess doesn't have a bench. Crooked Lake was picked because Principal Sam Anderson replied first.

"The bench has been a powerful tool and the kids take advantage of it and understand how we use it," Anderson said. "It gives kids an opportunity to be kind and to care for each other, and they do. We hear all the time about kids using the buddy bench."

Back in 2014, the idea for buddy benches first came to the district from Rori Koch, a parent whose personal experience at the time inspired her to seek solutions to remedy lonely recess playtimes that her child was experiencing while at Oxbow Creek Elementary School in Champlin.

"I was saddened to hear my then-kindergartner come home each day stating that he played by himself at recess," she said in 2014. "Anyone who knows him knows that he such a sweet, loving, caring and adorable little boy. I wanted to help him as any mother would want to help their child."

Compelled to take action, she hit the web and discovered a Today Show story about buddy benches. Excited about the idea, Koch sent an email to the Anoka-Hennepin School Board, which found its way to the desk of Mary Wolverton, associate superintendent for elementary schools.
"When I first read her email — I knew it was a great idea for all our elementary schools, not just one," Wolverton said in 2014. "It was a fantastic suggestion."

Soon the AHEF was looped in as a partner, and the rest is history.

"They're not just benches," DeGeest said. "They're tools to help teach our youngest students how to be good citizens, kind friends and to be welcoming to all people and that's all right at the heart of what we do."

In addition to the two new benches at McKinley and Crooked Lake, DeGeest said plans are already underway to fund the installation of buddy benches at the new Sunrise Elementary School in Blaine and Brookside Elementary School in Ramsey in time for the opening of the schools next fall.