Return to Headlines
Champlin Park High School: Josiah Strong finds discipline, balance while reaching for his goals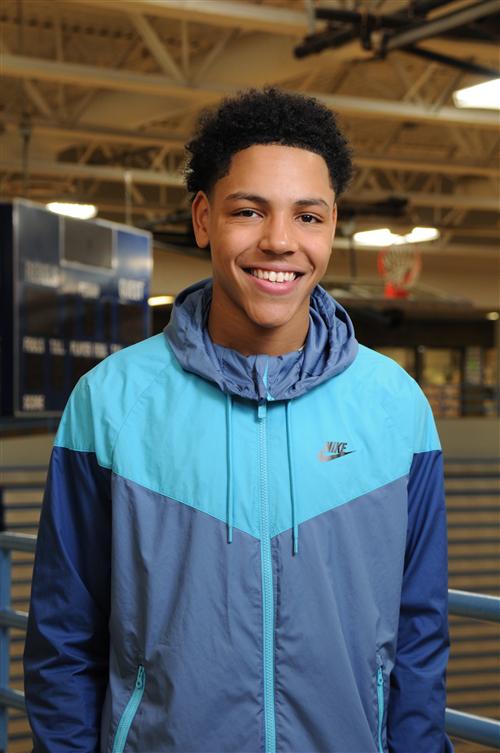 A leader on and off the basketball court and respected by peers and faculty alike, Josiah Strong is steadfastly committed to reaching the goals he's set for himself.
Strong, a junior at Champlin Park High School (CPHS), is a naturally gifted student who likes to challenge himself by taking AP classes, as well as classes in the International Baccalaureate (IB) program, a rigorously assessed, international college-preparatory program that emphasizes creative critical thinking.
He maintains that academic dedication even as a valued member of the varsity basketball team, which finished an amazing 32-1 this season.
"My coaches encourage me to lead, both by example and vocally," he said. "Wherever I go I try to be a leader. I try not to blend in but stand out. Usually when you stand out people want to follow you, as long as you're doing good things."
Strong has been selected as one of this year's Anoka-Hennepin School District Inspiring Students.
He is destined to do great things wherever his path in life takes him, said School Counselor Renee Johnson.
"Josiah has always been a hard worker, both in the classroom and on the basketball court," she said. "He always carries himself with class and displays a positive attitude. He is a leader amongst his peers, respecting others no matter their background or views. We are proud to have him represent Champlin Park High School."
Strong said he thinks a good leader is someone who motivates other people, wants to help others, and who walks the walk, and that's what he strives to do. What motivates him, he said, are his goals.
"Without having any goals actually set out, I don't think I'd be doing what I'm doing," he said. "Everything I do I like to do with a purpose. The things I'm doing, I'm doing them to better myself."
One of his main goals is to get a full scholarship to college. "I just want to be successful, and I know that not doing anything isn't going to get me anywhere," he said.
As someone who often waited until the last minute to get things done, Strong said he has learned that discipline is the key to reaching his goals. On days he doesn't feel like going to basketball training or working out, he reminds himself of what he's trying to accomplish and what it takes to get there.
"At school it's the same thing – there are days I don't want to do homework, but I've got to get it done," he said. "Sometimes you have to sacrifice and you can't do the same things everyone else is doing. So sometimes I do homework on a Saturday night."
Strong said he's never been one to just sit around; he likes to keep himself busy. But he admits that managing a demanding academic schedule, a varsity sport, a job and a social life can get a bit hectic. He gets support from his family, and he said it helps to surround himself with friends who are equally driven to succeed. But Strong is also intentional about maintaining balance in his life.
"I would say I'm most proud of being able to do all these things and still be successful at them. I have to manage my time well; I don't put all my energy into one thing. I try to be a balanced person," he said. "I'm probably most proud of that, having a balanced life."
Inspired by Time magazine's Person of the Year, the Anoka-Hennepin School District celebrates students who are inspirations and examples of hard work, determination, resiliency, and leadership. One student from each traditional and alternative high schools are selected for the district's Inspiring Students banner collection.

Each high school and the district's central office buildings will display the banners throughout the school year. A new student will be selected from each high school every year.