Return to Headlines
STEP: Rachel Hancock works hard to make her future career dreams a reality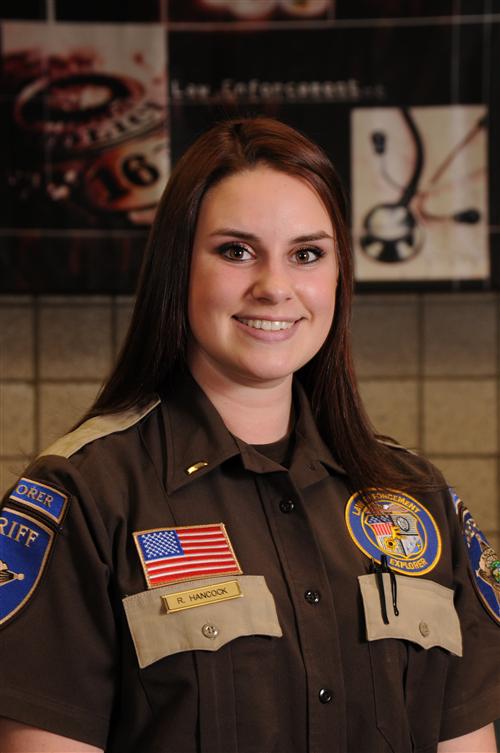 Rachel Hancock's hard work and perseverance toward her career goals are impressive to everyone who knows her, including staff and students at STEP (Secondary Technical Education Program).
A dedicated student who takes pride in maintaining a high GPA, Hancock has known from a young age she wanted to go into law enforcement, and she has pursued that goal with unwavering intensity. She completed two law enforcement classes at STEP this year, earning college credit in the process.
In addition, she participates in the Police Explorer program with the Anoka County Sheriff's Office, where she was recently promoted to lieutenant.
"It's honestly the best thing I've ever decided to do. You get to work side by side with licensed officers," she said. "We meet twice a month and we learn how officers respond to certain situations, and we train in all sorts of scenarios, from traffic stops to hostage negotiations to bomb threats. We also get to work at community events, so last year I was able to put in 158 volunteer hours."
Hancock has been selected as one of this year's Anoka-Hennepin School District Inspiring Students.
She is a great student, a positive role model, and a leader in and out of the classroom, said Kimberly Mortenson, law enforcement teacher at STEP.
"She leads by both example and by assisting her peers wherever she can," she said.
Hancock is also a member of the Criminal Justice Chapter of SkillsUSA at STEP, Mortenson said. SkillsUSA is a career and technical student organization that partners high school students, teachers, and industry to ensure a skilled workforce for America. Hancock worked to grow the program at the school by recruiting new members and applying skills she learned from her work with the Anoka County Sheriff's Office.
"She has dedicated countless hours to the chapter with the goal of improving our program," Mortenson said, "Rachel exemplifies the success that a young adult can achieve at an early age to not only get a head start on their career, but to make a difference in their community while doing so."
Hancock said she is passionate about working in law enforcement because she wants to help people and be a positive influence in the community. The fact that you don't sit at a desk all day doesn't hurt, she said.
"You get to be out interacting with the community and doing something different every day," she said. "I think I was 10 when I knew I wanted to do this. We had an officer come into one of my classes and talk about what it's like to be a police officer and it just fascinated me."
She said she is aware of the potential dangers of the job, but at the end of the day it's all worth it if she can make a difference, especially given the current climate.
"You get to help people. And I want to help better the reputation of law enforcement," she said.
"With all the bad things we've heard about some officers in the news lately, I feel there need to be a few more good ones."
When she's not working toward her career goals, Hancock sings in her school's concert choir, takes a boxing class, enjoys kayaking, and works part time. She also loves math and helps tutor her friends. She said she takes pride in her grades and tries to aim for all As.
"I always try to put in quality work and always pay attention and focus," she said. "My parents have really set a high standard for grades and responsibility ever since I was young, and so that's stayed with me as I've gotten older."
Her ultimate goal is to attend the University of Minnesota and get a degree in Sociology of Law, Criminology and Deviance, with a minor in Spanish and Political Science. She said she plans to become a criminal investigator with a sheriff's office.
"I just want to keep as many people safe as I can," she said. "If I can make at least one person's life better it will all be worth it."
Inspired by Time magazine's Person of the Year, the Anoka-Hennepin School District celebrates students who are inspirations and examples of hard work, determination, resiliency, and leadership. One student from each traditional and alternative high schools are selected for the district's Inspiring Students banner collection.

Each high school and the district's central office buildings will display the banners throughout the school year. A new student will be selected from each high school every year.