Return to Headlines
Coon Rapids High School: Lucas Sargent humbly exceeds expectations in and out of the classroom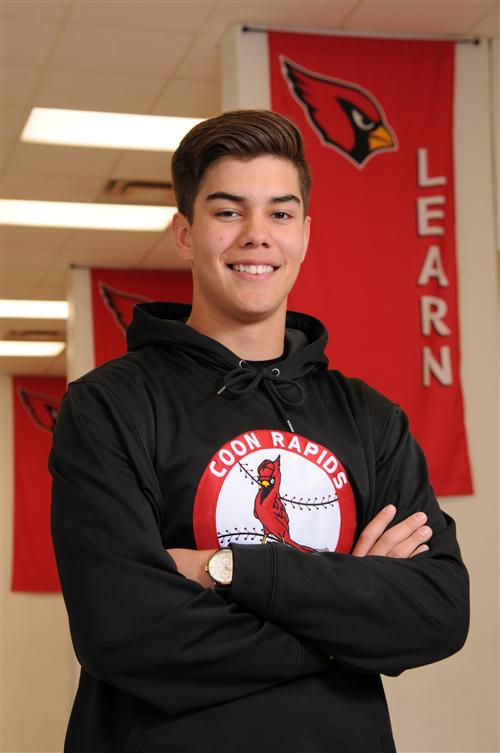 Lucas Sargent is an incredibly dedicated student who is not one to talk about — or even acknowledge — his own accomplishments. But staff members at Coon Rapids High School (CRHS) are more than happy to do it for him.
Described as a leader in the classroom, Sargent goes above and beyond in whatever he does, whether serving the community through National Honor Society, excelling in the school's Biomedical Science program, or helping lead his team on the football field.
"He's so focused, so engaged, and goes above and beyond expectations all the time," said Mindy Meyers, Indian Education academic/cultural advisor at CRHS. "He likes to share his knowledge with others, to talk about the way the world works and why things are the way they are. And he has a strong social justice perspective. He feels people should all live their lives to the maximum potential in being kind and considerate — he doesn't see that he's inspiring. He doesn't think he's anything special."
Sargent has maintained his academic success even while facing personal obstacles, such as coming from a single-parent household that has had some financial challenges. His perseverance is one of many reasons he has been selected as one of this year's Anoka-Hennepin School District Inspiring Students.
Sargent has a schedule packed full of honors, AP, and college-level courses, as well as the college-prep class AVID, and American Sign Language just for fun. He is Ojibwe from White Earth, so he is also enrolled in the district's Indian Education program. He has a real love of learning, and said his family instilled in him from a young age the importance of academics.
"My family has always preached to me that school is the most important thing, and no matter how hard we get hit money-wise or with our living situation that academics is really the most important thing for me at this time," he said. "They make sure that no matter what happens I'm able to work on my homework and make sure I'm ahead in all my classes."
He dedicates himself to living a healthy lifestyle much like he dedicates himself to academics. He's on the varsity football team, the junior varsity baseball team, and was part of a weightlifting group over the winter. In his free time he likes to play sports he's not competitively involved in, and he focuses on eating healthfully.
He said he's passionate about health education, and plans to go to college to pursue a career in medicine.
"Medicine is very interesting. I like learning about how things work, and if I'm able to find a job where I can harness that knowledge and give it to the public so they can be better aware of how to prevent diseases or how to treat them in general, I'd like to be able to do that," he said.
Sargent said his drive to succeed is in part fueled by his desire to support his family the way they've supported him.
"I just want to be the best I can be. My family has given me so much so that I can go to school without too many outside worries, so I just want to be able to pay them back," he said.
Meyers said Sargent's desire to give back extends beyond just his family. When it comes to community service projects with the National Honor Society, for instance, "he's always talking about how he wants to do more and more and more."
"He's doing all these great things for himself and the community with humble intentions. He's always saying he just wants to learn more things so he can apply them to the real world to help others," she said. "He just wants to give back to the community and the world."
Inspired by Time magazine's Person of the Year, the Anoka-Hennepin School District celebrates students who are inspirations and examples of hard work, determination, resiliency, and leadership. One student from each traditional and alternative high school are selected for the district's Inspiring Students banner collection.

Each high school and the district's central office buildings will display the banners throughout the school year. A new student will be selected from each high school every year.