Return to Headlines
Andover High School: Jared Vidervol stepped out of his comfort zone and found a way to make his mark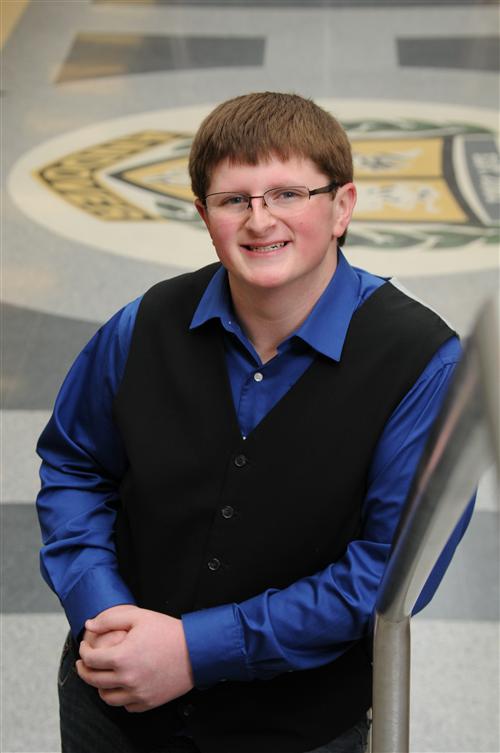 Jared Vidervol is known by staff and students at Andover High School (AndHS) as someone who will go out of his way to spread positivity and help others.
"He embodies 'kindness,'" said AndHS Principal Becky Brodeur. "He is a leader in the many activities he participates in and is universally known as a student who will go the extra mile in all he does."
As a member of the National Honor Society who takes AP classes and is captain of the speech team, there is no question Vidervol, a junior, is successful academically. "But his character sets him apart," Brodeur said.
It's chief among the many reasons Vidervol has been selected as one of this year's Anoka-Hennepin School District Inspiring Students.
Vidervol said he really likes bringing happiness and positivity to people.
"I like seeing smiles on people's faces," he said. "I think we have a really good class, and I feel like they deserve a good leader and someone who knows how to bring people together. That's what inspires me."
He brings that attitude to everything he does, whether helping to plan fun events as a member of the student council, planting gardens as a member of the Ecologically Concerned Organization of Students (ECOS) Club, or even helping plan for theater students to see shows around the community as a drama officer with the theater department.
His positive attitude is particularly embodied in his work with the Link Crew, made up of junior and senior volunteers who help introduce incoming freshman to the school prior to the start of the school year.
"We give them a tour and talk about the school to help give them an easy transition from middle school to high school. That's one of my favorite activities," he said. "Going into high school is always very scary, so on the first day of school I like going around to freshmen and asking if they need help, if they know where their classes are, stuff like that."
These days, he said, some of the freshmen he helped transition last fall are now walking up to him and asking how he's doing. "And that just really brightens my day," he said.
Vidervol said being involved in so many activities and taking on leadership roles is a stark contrast to who he was before entering high school.
"In middle and elementary school I was never really involved in anything. I was always in football and sports, but when I got to high school I just decided I didn't want to do that anymore," he said.
So he decided he would step out of his comfort zone and try something completely different: theater. And it opened up a whole new world for him.
"The first day walking into theater and trying out for the fall play, that moment just really changed my perspective on how high school could be, and how people could be," he said. "Everyone in there was really happy and really accepting of everyone. They all just swarmed around me and asked me how I was. And this was seniors asking a freshman. I was like, what is this?"
That experience inspired him to slowly start trying new things, he said.
"That helped give me the confidence to say, why not?" he said. "Now I really like doing a lot of different activities."
Vidervol said he thinks students are often hesitant to try new things, and he sees many of them stuck in their comfort zone like he used to be.
"That's one of the reasons I do NHS and Link Crew, just to bring people out of their usual cliques and help them meet new people," he said. "I want to tell them to try new things. Reach out to new people, talk to new people. You only go through high school once. So why not try new things?"
Inspired by Time magazine's Person of the Year, the Anoka-Hennepin School District celebrates students who are inspirations and examples of hard work, determination, resiliency, and leadership. One student from each traditional and alternative high school are selected for the district's Inspiring Students banner collection.

Each high school and the district's central office buildings will display the banners throughout the school year. A new student will be selected from each high school every year.