Return to Headlines
Anoka High School: Shakaylah James inspires with her unwavering positive attitude, perseverance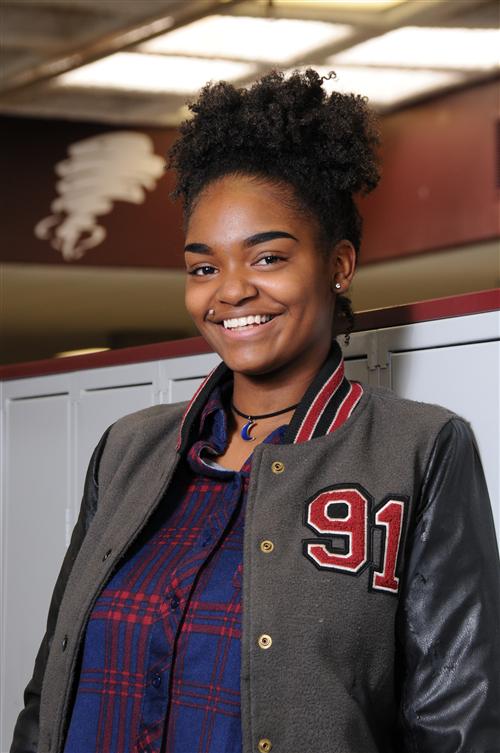 Anoka High School (AHS) junior Shakaylah James has something she wants you to know: "Being like everybody else is not where it's at."
James, who practically bubbles with optimism and enthusiasm, is definitely her own unique person, one who has made a big impression on staff and students at AHS. Even though she has faced some struggles and adversity in her young life, she has managed to overcome them without ever losing her upbeat, positive attitude.
"The resiliency and perseverance and positivity she brings is inspiring," said school counselor Kari Schell. "She's just one of those students that you know is going to do great things."
James is a hard worker and dedicated student who is always happy to help her classmates, qualities which have earned her a selection as one of this year's Anoka-Hennepin School District Inspiring Students.
"She's just such a thoughtful, well-spoken young lady. She has so many goals," Schell said. "Her teachers say she's always a pleasure in class, she always works so hard."
James said she gets her positive attitude in part from her grandmother, with whom she and her mom live.
"She is a very strong woman. She's from Mississippi and had seven kids, three of whom died. She picked cotton, and she didn't really have the choice to go to school. She would get up at 6 a.m. and go to the fields and pick until sunset," she said. "She taught herself how to read and write."
Despite everything she went through, her grandmother never succumbed to negativity, which has helped give James perspective about her own life.
"I have no reason not to smile, because I'm alive, and I have rights, and I live in a free country, and I can do just about anything I want," she said. "There's a lot of things to be happy about."
Her grandmother's stories have also instilled in her the importance of education. James said college is a priority, and she is currently taking AVID, a college-prep class, and plans to enroll in AP classes next year.
Still, she has faced challenges. Her father has never been a part of her life, and she and her mother experienced homelessness for a brief period after her mother lost her job in a mass layoff.
"I just remember we were jumping from shelter to shelter, and I was missing school, and all my teachers were concerned about me," she said." I really wanted to go back to school, but we didn't have a stable home or transportation."
Regardless, she continued to do her schoolwork during that time. When she was able to return to school a few weeks later, she had all her work completed and jumped right back in without missing a beat.
"I didn't feel I would get anywhere in life just sitting there not doing anything," she said. "Before that I've never missed a day of school. Even when I'm sick, I tell my mom if I'm not on my deathbed or I'm not contagious, I want to go."
James also went through a difficult period in middle school with a group of friends who were critical of her clothes and appearance, which made her start to feel bad about herself.
"I never thought I'd need the right shoes to fit in, but then I thought maybe I did," she said. "But when I was by myself I started questioning and rethinking those friendships. Then I met my best friend, who told me I don't need to fit in, I need to be the sunflower out of a lot of roses."
James has since learned to responds to critics with a smile. But to get through that time, she focused on academics and spent a lot of time alone, which proved invaluable as a way to get to know herself, and helped her embrace her independence and individuality.
"There's nothing wrong with being alone. It helps you define who you are," she said. "As I grew and got older, I just learned more about myself and who I want to be in life from spending time alone. And if you're not rowing in my boat the same way I am, then I'm not going to let you bring me down."
Inspired by Time magazine's Person of the Year, the Anoka-Hennepin School District celebrates students who are inspirations and examples of hard work, determination, resiliency, and leadership. One student from each traditional and alternative high school are selected for the district's Inspiring Students banner collection.

Each high school and the district's central office buildings will display the banners throughout the school year. A new student will be selected from each high school every year.