Return to Headlines
Anoka-Hennepin STEP automotive program named Exemplary Secondary Program of the Year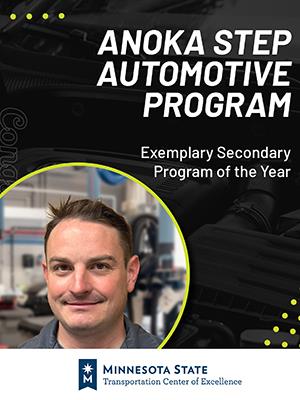 (06/29/2023) On June 23, the automotive program at Anoka-Hennepin Secondary Technical Education Program (STEP) was recognized as the 2023 Exemplary Secondary Program of the Year by the Minnesota State Transportation Center of Excellence (TCOE).
The Exemplary Secondary Program of the Year award showcases secondary level transportation programs that serve as exemplary models of institutional support, instructional leadership and program-wide excellence.
"The automotive program at STEP stands out because of its industry based curriculum, dedicated teacher, state-of-the-art facilities, community partners, and support from our colleagues at Anoka Technical College," said Jess Lipa, the STEP Career & Technical Education Director.
The automotive program is led by instructor Theron Busse. He is an experienced automotive teacher with a passion for empowering students with the knowledge and skills needed to excel in the automotive industry. With time spent at the post-secondary level teaching and now completing his sixth year of teaching at STEP, Busse has developed a comprehensive understanding of automotive technology and a talent for effectively communicating complex concepts to students of all levels.
"It's a big honor," Busse said. "I'm never one for vanity and recognition, but we try hard out here. I found that working on customer and student vehicles is by far the best way for these students to learn and apply the content they get in the classroom. High school students will rarely see what they get here in a lab setting. I'm honored and thankful for the award."
Busse's expertise spans various areas, including engine diagnostics, electrical systems and vehicle maintenance. His dynamic teaching style incorporates hands-on learning, theory, and uses his own industry experience to ensure students gain practical experience and problem-solving abilities. He is committed to fostering a collaborative and inclusive learning environment where students feel motivated to explore their potential and pursue rewarding careers in the automotive field.
"Theron brings his background, high expectations for students, and connection to our business partners into his classroom in every way possible," Lipa said. "This award is because he works tirelessly to support, mentor, and guide our students into all of the opportunities that a career in transportation can bring."
The STEP automotive program is Automotive Service Excellence (ASE) approved and brings academic theory and combines it with practical, hands-on experience to prepare students for the dynamic and evolving automotive industry. The courses incorporate industry standards, real-world experience, and internship opportunities to allow students to gain invaluable industry exposure and develop their problem-solving skills.
Visit the Minnesota State TCOE website for more information about the awards.