Return to Headlines
Informational sessions available for Grow Your Own Teachers program
(11/22/19) The Anoka-Hennepin employee services department is holding informational sessions for district employees regarding a partnership with the University of Minnesota's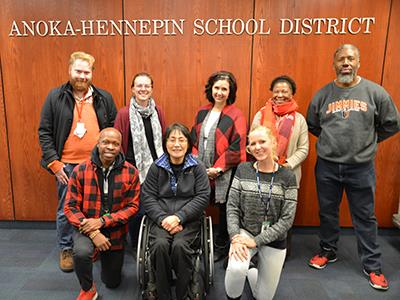 Grow Your Own Teachers program.

The meetings will be held in the Erling Johnson room at the Educational Service Center (ESC) located at 2727 N Ferry St., in Anoka. Those interested in attending should enter through Door 7. The three dates are:
Thursday, Dec. 12, 4:30-5:30 p.m.
Thursday, Jan. 16, 6:30-7:30 p.m.
Monday, Feb. 10, 4:30-5:30 p.m.

Anoka-Hennepin is committed to ensuring that our teaching staff is reflective of the growing diversity of our students, therefore employees of color and American Indian employees are strongly encouraged to attend an informational session to learn more about this opportunity, which is in alignment with the Anoka-Hennepin Equity Achievement plan.

The Grow Your Own Teachers program is a two-year, 36-credit initial licensure and M.Ed. program that is designed for individuals with bachelor's degrees (that do not currently possess a teacher's license) to continue to work in their current position and complete the program. This program offers reduced tuition costs at the University of Minnesota and may also provide grant funding. It is open to all qualified employees interested in becoming teachers.

Anoka-Hennepin currently has eight employees enrolled in the Grow Your Own Teachers Cohort 2, four of which are enrolled in the elementary licensure program and four others in the English Learners (EL) program. The district was recently awarded a grant from the Minnesota Department of Education (MDE) to help provide pathways to teacher licensure for current paraprofessional and other non-licensed staff.

Anoka-Hennepin was awarded $106,800 in grant funds which will supplement spring and summer tuition for the eight staff members currently enrolled in Cohort 2. Remaining funds will be designated for required prerequisites for those who will start the program in the fall of 2020 as Cohort 3.

Anoka-Hennepin employees enrolled in Cohort 2 of the Grow Your Own Teacher program:
Kirk Gibbs, special education para, University Avenue Aerospace, Children's Engineering and Science.
Mina Christensen, substitute.
Chandler Foster, special education para, Hamilton Elementary School.
Sarah Plankers, substitute.
Nick Hedman, special education para, Ramsey Elementary School.
Kimberly Marks, volunteer services coordinator.
Funmilayo Igboh, special education para, Evergreen Park World Cultures Community School.
Mary Beck, substitute.

The Grow Your Own Teachers program is open to Anoka-Hennepin employees with a bachelor's degree, that do not currently possess a teacher's license. In the fall of 2020, participants will have the option of elementary education, EL, secondary math or secondary science programs.

For more information or to receive updates on the program, fill out the form at the following link: ahschools.us/gyotinfo or contact Anoka-Hennepin recruitment and retention specialist, Julie Phillips at julie.phillips@ahschools.us or 763-506-1095.