Return to Headlines
Roosevelt Middle School teacher uses comic books to foster love of reading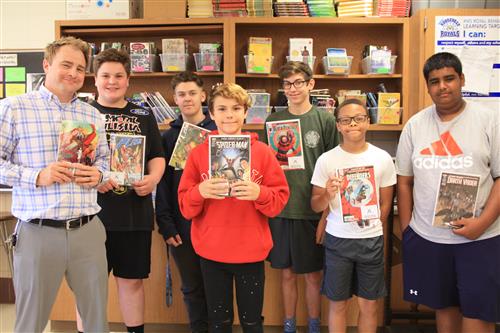 Comic books in the classroom may seem like every kid's dream. But according to Roosevelt Middle School (RMS) English teacher Matt Van Zee, they can actually be a powerful tool to help students develop a love of reading.

Van Zee has been using comic books and graphic novels for the past year to better engage students who are reluctant readers and those who are reading below grade level. He started with just one title that he purchased with his own money, and interest quickly exploded.

"All of a sudden there was a line of kids who wanted to read it, and I only had one copy. So I subscribed to three more, and those became really popular," he said. "So I kept subscribing and they kept asking for more."

Van Zee then applied for and received a $194 grant from the Anoka-Hennepin Educational Foundation (AHEF), which was enough to stock his classroom with five additional comic book series and three graphic novels.

"As a result of the grant I found out some really powerful information about the positive impact these materials can have on students," he said.

The idea for comic books came out of a desire to meet the independent reading needs of all his students, including those who were struggling to finish books. Looking at the population of students in his classroom, Van Zee realized some of his students weren't seeing themselves in the books that were put in front of them. He thought if he could engage them with graphic novels — with their visuals, highly complex plots, and diverse characters — he could get them more interested in reading.

"I felt like my eyes were opened to the lack of minority representation in independent reading materials. It's getting better, but what's published still needs to catch up," he said. "I noticed that Marvel was publishing a lot of main characters who were from some of those underrepresented groups, and I thought this was a great chance to add some diversity to the characters students were reading about."

He also knew his students really liked Marvel movies, so there was already a built-in interest in many of the characters, he said.

The first title he subscribed to was about a black superhero, "Mosaic," and the kids flocked to it. The grant allowed him to purchase a number of titles with a wide range of representation, including "The Mighty Thor," in which Thor is a woman, and "Spider-Man (Miles Morales)," which features an Afro-Latino teenager as Spider-Man.

Beyond representation, comics and graphic novels can be attractive to students who have trouble visualizing what they're reading, Van Zee said. And they're short, which can help students who struggle to finish books and then lose motivation to keep reading. But these materials are far from simple, he said.

"There's a lot of really high level stuff going on in comics: high-level vocabulary, complex plot lines and very thought-provoking themes," Van Zee said. "And that allows me to have some of those higher-level discussions with students."

As part of the grant, students were surveyed throughout the year on their attitudes toward reading to measure any effect the comic books might be having. Van Zee said the results were really encouraging.

"Thirty-one percent of the comic readers reported a more positive attitude about reading," he said. "So about one in three said they liked reading better. One student moved from 'dislike reading' to 'like reading.' And I got a lot of verbal feedback of, 'I really like these' and 'when are we getting more?'"

One African-American student told Van Zee that reading "Black Panther" inspired him to reach higher than he previously thought he could, by registering for and being accepted into the CEMS (Center for Engineering, Mathematics and Science) program at Blaine High School.

Eighth-grader Treyus Rawls said he was also inspired to read "Black Panther" because he could relate to it. Before he read it, he had wondered if there could ever be a black superhero.

"It's deeper than just being a black comic book. It's like, we can do it, too," he said. "I went from 'Black Panther' to 'Mighty Thor' and now I'm reading 'Wonder Woman.' After I read a whole bunch of comics, I read books that fit into the same type of category, and it led me to become an avid reader."

Jayden Benson said that before comics, he really disliked reading and read only when he had to. But comics have made reading more fun, he said.

"They really sparked my interest in different topics," he said. "I think they made me a better reader, so then I started looking at chapter books. Now if I ever do forget my chapter book I go back to the comics."

The comic books have been so successful that RMS is expanding them into other classrooms next year, and Van Zee recently had his grant renewed.

Tess DeGeest, executive director of the AHEF, said her organization found this grant appealing because there was so little risk and so much potential to help move the needle for students who were otherwise struggling. In fact, AHEF will be funding similar grants next year for Jackson and Anoka middle schools.

"It's not about just getting kids to read comic books, it's about getting them excited to read," she said. "I think what (Van Zee) has demonstrated is that there's a need to better reflect the students who are in our schools today in the reading materials that we provide them. Graphic novels can do that very effectively for struggling readers."

But even passionate readers, like eighth-grader Cort Chiodo, have found that comics have opened up a whole new world to them.

"I grew up watching Marvel movies, and I've always loved superheroes. When Mr. Van Zee introduced comics I was like, whoa, I didn't know I could actually read these in school," he said. "So I've been reading a bunch of series I've been interested in. It was pretty cool that he introduced them to me."