Return to Headlines
Updated: David Law named 2019-20 Minnesota Superintendent of the Year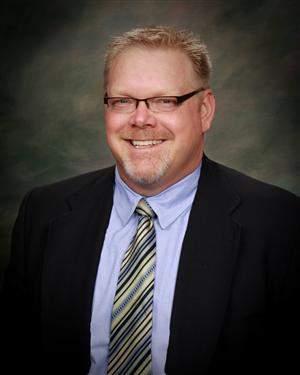 (10/10/19) Anoka-Hennepin School District Superintendent David Law has been named 2019-20 Superintendent of the Year by the Minnesota Association of School Administrators (MASA). Law was presented the award Oct. 7, the first day of the organization's annual two-day conference.

"It's just an incredible honor," Law said of being named Superintendent of the Year "But this is a recognition of the great staff in our system. This is a reflection of the 7,000 employees in our school district doing great things for kids. So I'm hoping to use this to showcase the great work happening all over our system."

This year's award is the 32nd MASA has bestowed, and it's the first time an Anoka-Hennepin superintendent has won. Any of the state's more than 315 superintendents can be nominated, and in Law's case, he was nominated by five different people.

"It's incredibly humbling when so many people appreciate the work you do and also take the time to nominate you for something like this," he said. "So I felt like I needed to go through the process."

And the application process is intense, which Law said included writing 1,000-word essays that really drilled into some of the work he's led during his time in Anoka-Hennepin, including ways the district has addressed achievement, equity, and culture.

"We've done a lot of things during my time here to make sure every student feels connected to school," Law said. "We've provided different supports for students, we've provided different course work, and we've provided forums to connect with students and ask them what they want from our school system — it's one of the things that I'm really proud of."

Gary Amoroso, MASA's executive director, said he wasn't surprised that Law received the honor.

"Within our association, I interact a lot with him, and David's focus is always to be as inclusive as we can. He wants to make sure all voices are heard," Amoroso said. "And that demonstrates a strong understanding by our members to his commitment to public schools and the students he serves."

All told, eight superintendents were nominated to be superintendent of the year, Amoroso said. Those nominees who go through the application process then have their submissions screened by a number of Minnesota's professional educational organizations which MASA works with, including the state teacher's union, Education Minnesota, both the elementary and secondary principal associations, the school board association, among others.

"When you rise to the top in the eyes of those individuals and those groups that we serve — that's a monumental statement," Amoroso said. "To be selected by such a broad spectrum of constituents says a lot about David."

With winning, over the next year, Law will be asked to participate in speaking engagements around the state that focus on educational topics. In addition, Law will be in the running for the National Superintendent of the Year award, which will be presented in February by the National Association of School Superintendents, also known as AASA.

Law has been superintendent of Anoka-Hennepin schools since 2014, and is a district alumnus, having graduated from Coon Rapids High School in 1987. From there he earned a bachelor's degree in mathematics from Hamline University, in Saint Paul, and then a law degree from William Mitchell College of Law, also in Saint Paul. He completed his superintendent's licensure at the University of Minnesota. During his educational career, Law has been a teacher, assistant principal, principal, assistant superintendent, and superintendent.

MASA is a private, nonprofit member service organization representing Minnesota's educational administrators, including superintendents, directors of special education, curriculum and technology leaders, central office administrators, and higher education administrators and professors. The organization supports excellence in professional practice, enhances the leadership networks of members, and provides members with a variety of valuable benefits. The Minnesota Superintendent of the Year Award is sponsored by ATSR Architects, Planners and Engineers.

Read more about Law being named the 2019-20 Superintendent of the Year: