Return to Headlines
Adam May, Anoka High School, Class of 1993, Reporter/Anchor at Al Jazeera America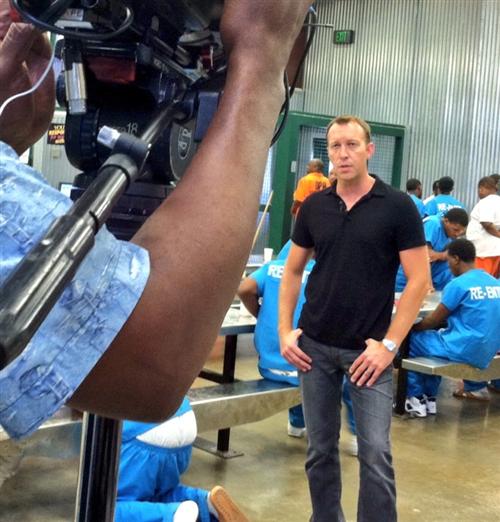 Adam May thinks he's was always predisposed to become a journalist. Since he was young, May remembers being naturally inquisitive and fascinated with the television news his mother kept on in the background while cooking dinner. He also loved hearing about his father's days as a police officer.
"My mind was full of endless questions and I think that's what sparked it," May said.
And while he may have been predisposed all along, it was his teachers and education at Anoka High School (AHS) that May credits with building the foundation for his career as American correspondent and anchor with Al Jazeera America.
"It's a dream come true for a journalist to be doing what I'm doing," the 1993 AHS graduate said of his work. Specifically, May covers domestic affairs for the cable television news network. The bulk of his reporting is done on "America Tonight," a news magazine-style program akin to 60 Minutes.
He's also in the anchor chair often, covering hot-button current events around the globe, such as the recent Israeli invasion of Gaza, and the alleged shooting down of a Malaysian Airlines jet in Ukraine.
"It blows my mind that I'm where I am," May said. "It's an amazing job."
But still, it's those AHS teachers that got him where he's at, May said. Teachers like former AHS theater director Kent Knudsen.
"(Knudsen) taught me, trusted me and empowered me. I knew I wanted to be a television journalist, and my teachers — I had so many amazing teachers at Anoka — they talked to me and listened to me and helped me get involved and stay involved in the extra curriculars that would help me be what I wanted to be." He was involved in extra currriculars like singing for the school's choir, serving as a section editor for the school's student newspaper, and performing theater.
"My time at Anoka — I look back at it so fondly," he said.
After graduating from AHS, May attended the University of Minnesota — Twin Cities to study speech communications and history. Soon, he was interning at a Duluth, Minn., television station where he got his big break — as a 20-year-old.
May, still an intern, was asked to help fill in when a reporting position suddenly opened. He did such a good job, they offered him the position shortly after.
"It was a dream scenario," May said. "I mean, I didn't even graduate from the U of M and I had this job as a reporter. I was so fortunate that happened to me. I've seen so many interns come into newsrooms and the reality is that very few of them will ever get an on-air job in television."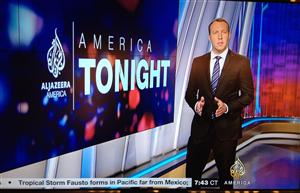 May says it was part luck and part hard work that landed him that first job years ago.
"For me I had to work a lot of hours and I basically just glommed onto a couple of people in the newsroom to learn from them," he said. "And they noticed that. They saw that I was willing to work hard and to do what they asked."
After a few years, May left Duluth and bounced around the country gaining more experience. About a year ago he landed at Al Jazeera America, based in Washington, D.C.
"It's wonderful to be part of a news organization like this one," he said of Al Jazeera. "It's American news with a global perspective. We don't cover celebrity news. We find experts in the field we're covering and have them explain the facts — it's not just two people arguing different opinions. It's refreshing."
That said, May acknowledges that sometimes Al Jazeera solicits some goofy looks when he describes his job to others.
"When I'm talking to people, sometimes they hear the name and they take a step back," May said. "But the audience is growing and Al Jazeera as a network is extremely popular around the world, which is a result of the great journalism we do."
And he's proud of his work. Recently, May said, he's been doing work covering the ever-growing heroin and opiate epidemic across the nation. His story brought him to a small town in Vermont where he got to see the affects of addiction firsthand.
"Folks have this idea of what a heroin junkie is and it's such a misconception." He said. "I met mothers with young children and working adults — just regular folks. There's a real problem in this country (with addiction) and the question is how do we treat that and help these people? I'm really proud of that story."