Return to Headlines
Brett Holmgren, Blaine High School, Class of 1999, special assistant to President Barack Obama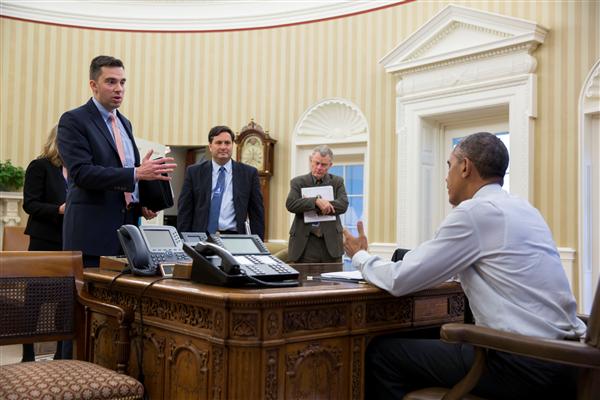 Blaine High School graduate Brett Holmgren always had a passion for government — an interest that he can trace all the way back to middle school — but it wasn't until Sept. 11, 2001 that he discovered his passion and purpose could become one.
"9/11 was a defining moment for me," Holmgren remembered. "9/11 helped clarify my purpose and led me to pursue a career in the national security side of government."
Nearly 15 years later, Holmgren, who graduated from BHS in 1999, is helping shape the government policies that he hopes will lead to more peace and prosperity in the world. In August 2015, he was commissioned as special assistant to President Barack Obama and the Senior Director of Intelligence Programs on the National Security Council. In this role, Holmgren oversees covert action programs, advises the President on sensitive intelligence activities and serves as the NSC's primary contact for the intelligence community — among other duties.
Photo: President Barack Obama speaks with Brett Holmgren, Senior Policy Advisor to the Assistant to the President for Homeland Security and Counterterrorism, as newly appointed Ebola Response Coordinator Ron Klain and Rand Beers, Deputy Assistant to the President for Homeland Security, stand by in the Oval Office, Oct. 22, 2014. (Official White House Photo by Pete Souza)
Getting to the White House
Before joining the President's administration team, Holmgren spent about eight years in the Intelligence Community, including at the CIA, starting as an analyst after completing his bachelor's degree in 2003 at the University of Wisconsin-Madison.
"It was a tremendous experience," he said. "At (the) CIA, I worked with some of the most patriotic and exceptional people I've ever met."
In 2011, Holmgren decided to make the leap into the policy world so he could have a more direct role in shaping how the government handles national security issues. He spent two years as the NSC's Director of Counterterrorism, and then moved to the Pentagon as a special assistant to the Deputy Secretary of Defense Ashton Carter — who is now the Secretary of Defense. In 2014, he returned to the White house, this time as the Senior Policy Advisor to Lisa Monaco, the President's Homeland Security and Counterterrorism czar. While in that role he worked on everything from recovering U.S. hostages in Syria in the summer of 2014 to the Ebola outbreak to developing a strategy on dealing with ISIL and increasing cybersecurity challenges.
"There were not many days or nights off during that year," Holmgren joked. "And somehow the White House convinced me to come back [for the job I have now]."
"I am deeply humbled and honored that they would want to keep me on the team," he added on a more serious note. "I need to pinch myself sometimes."
An Educational Foundation
Holmgren said he wouldn't be where he is today without the education and support he received from the Anoka-Hennepin School District.
"All of my teachers were passionate and they always put students first," he said. "They taught me that if you believe in yourself you can do anything — whether it be on the football field or in the classroom or if it's in pursuing your career goals."
Holmgren recalled one teacher in particular that had a major impact on him: BHS social studies teacher Steve Drewlo.
"Often times we would begin class with him playing the latest news clips," he recalled. "[He wanted to show us that] you have to be aware of what is going on in your community, state, government and country. That you have to be an active participant in your community to create positive change—and this really stuck with me."
Drewlo remembers Holmgren fondly.
"I remember him showing respect, interest and acceptance to all the people here at Blaine, and the staff and students are better as a result of knowing him," he said. "This was clearly a young man who was making an effort to grow and develop into the finest human being he could be."
"Perhaps my fondest memories are the laughs we shared in the classroom," he added. "[Brett was a] very endearing young man, to say the least."
Making a Difference
Holmgren will continue in his advisory role at the White House until the next president takes office — and he's not wasting any of that remaining time.
"I tell everybody on my staff that while our time here may be brief, the office of the presidency will endure and you have an opportunity to make a difference while you're here," he said. "I view our role on the NSC as one of a steward, and our goal is to leave this office and leave the White House better than when we arrived."