Return to Headlines
Andy Erikson, Blaine High School, class of 2005, nationally recognized comedian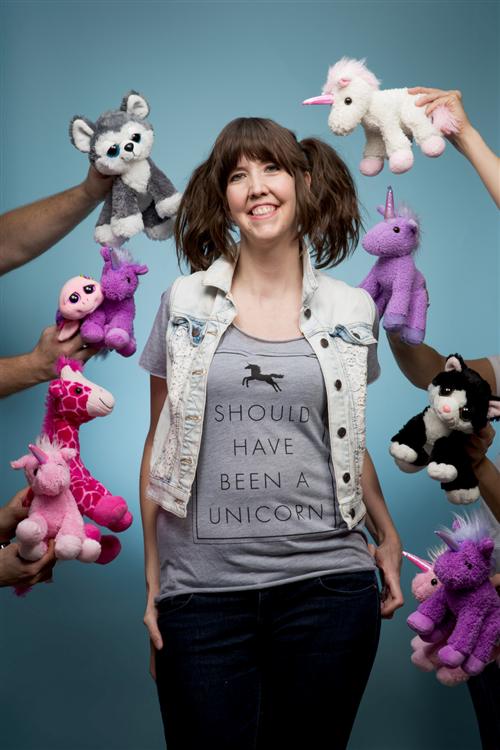 Andy Erikson loved high school – and that's no laughing matter!
Lessons taught by her "really cool, really smart" Blaine High School (BHS) teachers tickled her ribs during her high school career and put her on track for the career in stand-up comedy that she enjoys today.
Perhaps the highlight of Erikson's comedy career occurred last fall, when the 2005 graduate appeared on NBC's Last Comic Standing. Finishing in the top 5, she toured the country doing stand-up comedy and launching her career on the national level.
Erikson also released a live stand-up comedy album called Standing Unicorn. A Los Angeles resident since 2014 she continues writing her own laugh lines and doing stand-up at clubs and colleges and recently auditioned and won a part on a television show. (Erikson is prohibited from revealing the show on which she will appear until after it has aired.)
"I auditioned, read a few lines – just did it a couple different ways and got called the next day. I got it," she said.
While she readies "take one" on the television stage, Erikson is doing some screen writing and hopes to blend her creative comic talents.
"I'm trying to balance comedy and acting and think it would be really cool to have my own sit-com someday, something along the lines of New Girl or something like that," she said.
Laughing all the way while pursuing performance and seeking the spotlight on bigger stages, Erikson said it was during her high school years — and the ensuing search for her true self — that truly honed her creative craft.
Teachers taught her that laughter lightens the load, she said, and cracking a smile can crack even the toughest task, relieve anxiety and soften stressful situations, too.
"All my math teachers were super funny. They'd tell these silly jokes and kind of balance out the serious subject — math — with lighter fare. My art teachers were all very encouraging and very expressive, too, but my AP history teacher, (Garnet) Towne, and my European history teacher, (Roger) Dahl, probably had the biggest influence," Erikson said.
The comedian tells the story of wanting to drop out of AP history when she found out how much homework was involved.
"I came to class the first day and told Miss Towne I was going to drop it. She wouldn't let me! I'm crying, I'm telling her, 'It's going to be so hard.' But she wouldn't let me drop out and I'm so glad she didn't. I learned so much — it's good to do something hard. It showed me I could do anything," Erikson said.
"Mr. Dahl was fun and really cool, too. He did a lot of acting things out. He taught things in a theatrical way," she said.
Erikson excelled in her studies at BHS and tutored Blaine's ESL and AP students. She was also active in after-school activities, competing on the math team, performing with the Bengals color guard and serving as theater tech for the drama department.
"I loved high school. I was very active in school. It was a great time," she said.
After completing her high school career and graduating with the class of 2005, Erikson studied graphic design at the University of Minnesota, ultimately earning her degree and further pursuing comedy in Minneapolis.
It was at one of those comedy clubs that Erikson met a comic who would become her husband and together they moved to Los Angeles to gain exposure and recognition with their craft.
Back home, Erikson will take the stage as headliner for Anoka-Hennepin's Feb. 11, 2017 Northern Stars Gala.
Tess DeGeest, executive director of Anoka-Hennepin Educational Foundation, said she looks forward to seeing what Erikson brings to the annual celebration.
"We like the idea of showcasing alumni talent … and were brainstorming when Andy's name came up. Part of the appeal of Andy is that her humor is clever and not R rated like many comics can be," DeGeest said. "We are hoping Andy will bring in more young alumni and parents and will help us expand our reach into the community so more people are aware of AHEF, our mission and the great work our donors are doing to benefit our students and schools."
To see a sample of
Erikson's comedy, check her out on YouTube
.