Return to Headlines
Keith Kiefer, Coon Rapids High School, class of 1975, armed services Humanitarian Service Medal recipient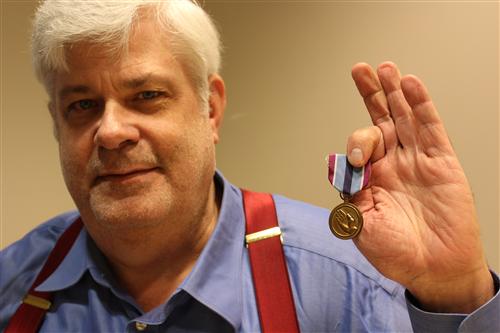 Keith Kiefer admits he's always been "kind of nerdy."
He said back in the mid-1970s when he was a student at Coon Rapids High School (CRHS), kids fit into all sorts of groups.
"I tended to fit the nerd category," the 1975 CRHS graduate said proudly. "I liked science, math was okay, chemistry I enjoyed but never liked the memorization. Reading? Not so much, but I liked technical reading and spy books with all the problem solving. Yeah, I was pretty nerdy. Still am."
His nerdery fit him well, ultimately playing a part in his being awarded the Humanitarian Service Medal for the United States Armed Forces. The medal, presented to him in December by Congressman Tom Emmer, recognizes Kiefer for his role in helping to clean up contamination on one of the Marshall Islands — contamination that resulted from atomic bomb testing done there some 40 years ago.
As a member of the United State Air Force, Kiefer was part of a clean-up mission on the Enewetak Atoll in the south Pacific.
"There were a number of atomic tests the U.S. did there. The test vaporized two of the (43) islands and I was part of the clean-up operation on Enewetak Atoll in early 1978," Kiefer said, describing long days in 100-degree heat spent cleaning up contaminated buildings, ships and radioactive soil over a six-month period.
But more about his high school days … Kiefer said his parents really went to bat for him, convincing educators to allow their insatiably curious son to take math and science classes during time that was originally designated for required gym class and study hall.
"They told them I could get my exercise in other ways, I didn't have to be in gym class. And study hall? I could study, (and) do my homework at home — I wanted to learn more during the school day," he said.
And so, he was allowed to take offset lithography, electronics, photography, automotive, woodworking, metal shop, mechanics and more.
"Not only that, every quarter of my high school years I had science and math. And I loved it," he said.
Kiefer still holds in high regard many of the CRHS teachers who recognized his inquisitive mind and gladly challenged his intellect, boosting his curiosity and enhancing his high school education.
"Mr. Ken Peterson was my driver's education instructor. I remember something very important he did. He'd just kind of punch me in the shoulder and say, 'Relax. Just relax.' He could tell I was nervous, but he had that way of snapping me out of it, getting me to relax and focus. That's really something. That's really important," Kiefer said and then named several more influential teachers at the high school.
"Mr. Tice was a math teacher I really liked. Mr. Brown and Mr. Cochran were amazing teachers in industrial arts. Mr. Wolf was a brilliant electronics instructor. Mr. Kruge was chemistry and really knew how to excite students with lessons. Mr. Guy Resse, aviation science, was another one who really had a passion for the subject and it rubbed off on us. I had a great time in high school," Kiefer said.
Employing the "buddy system," Kiefer enlisted in the Air Force with his best friend, Rob Gutkaes, and his neighbor, Mark Luke. While his buddies became aircraft mechanics, Kiefer scored highest in electrical mechanics and pursued that specialty with the Air Force.
While an Airman, Kiefer continued following his passions for science and mathematics, studying at Air Force College, Orange County Community College and Clark Community College.
After three and a half years of active duty with the Air Force, Kiefer took an "early out" and attended Anoka-Ramsey Community College, Hennepin County Community College and the University of Minnesota while working at Honeywell.
"I received an AA (Associate of Arts) and AS (Associate of Science) and have over 390 college credits. Most of the credits are technical, science and/or engineering," said the well-educated Coon Rapids graduate.
In his professional life, Kiefer has done contract engineering and consulting work for 3M, NSP, Microtron, Analog Systems, ATK and Stratasys among others.
"Yeah, I've done a lot of engineering and to be an engineer you have to be kind of nerdy. That's okay. I never had a problem being nerdy," Kiefer said.