Return to Headlines
Ryan Moller, Anoka High School High School, class of 1998, working on Broadway for hit musical 'Hamilton'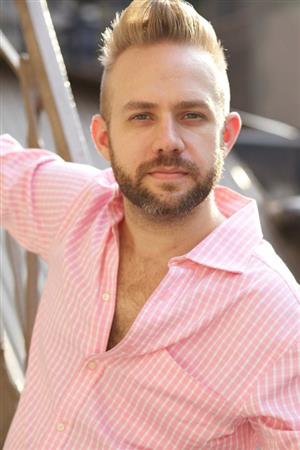 Eleven years ago, Anoka High School (AHS) graduate Ryan Moller arrived in New York City with three suitcases, $700 and his sights set on Broadway. Today he is part of the biggest musical to hit the Great White Way in recent memory.

Moller, AHS class of 1998, is a member of the wardrobe team for "Hamilton," the smash Broadway hit that opened to rave reviews and year-long ticket waits. As the head costume presser, Moller plays a crucial role in keeping the show moving smoothly day after day.

"I'm in charge of making sure every costume used in the show has been ironed and the buttons checked, and that they are all assembled on the correct hangers. I literally stand at an ironing board for four hours a day to get the show ready," he said, laughing.

He's also a swing dresser, which means he fills in for any dresser who's on vacation or out sick. Dressers assist actors with their costumes between scenes, following specific groups throughout the show, helping them with quick changes and making sure they have what they need to get back on stage.

Moller said he's had to deal with his share of wardrobe malfunctions, such as the wayward shoe that flew off the foot of a male dancer and into the audience.

"There's a song in the second act called 'The Room Where it Happens.' And the male dancers have these pilgrim buckle shoes and they're dancing toward the audience doing these high kicks in the air, kind of like the Rockettes," he said. "And one of the actor's shoes flew off and sort of twirled out into the darkness of the house and into an audience member."

The dancer saw a man stand up, catch the shoe like it was a football, and sit back down, leaving him to spend the rest of the number with only one shoe on.

"So I had to sneak out into the house and try to figure out who had the shoe and make sure they weren't going to take it home as a souvenir," he said.

Moller has been with the show since the very beginning, when he was hired as a stitcher. When he heard about the concept of Hamilton, he was certain it wouldn't last.

"It sounds like an absurd idea: A rap musical about a Founding Father that everyone has forgotten about. I went in there thinking, this is a flash in the pan," he said. "And within an hour of starting the dress rehearsal, I had stopped sewing and was watching the little monitor in the wardrobe room going, 'This. Is. Amazing.' I knew within the first hour that this was really special and that this was going to change everything."
Moller has always been interested in costumes and design. He learned to sew from his mother, who ran an embroidery and applique business out of their home. When he was young she would let him play on the sewing machine with leftover scraps of fabric, which he would turn into doll-sized costumes based on those he'd seen in old movies like "Gone with the Wind" and "The King and I."

"I always thought it was just something fun, that it was a hobby," he said.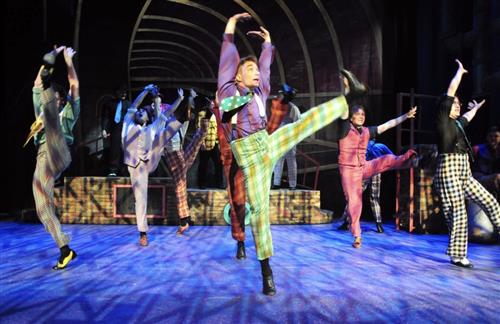 He didn't initially see costume design as a potential career because his dream had always been acting. He got involved with the Anoka Children's theater as a performer in second grade, then moved on to community theater, and was active in all the student-directed shows at AHS, from "Little Shop of Horrors" to "Jesus Christ Superstar." He said his theater advisors at the school were incredibly supportive and influential, including paraeducator Karen Psyck, who oversaw costumes at the time and helped him with his sewing and design skills, which he had no idea would eventually come in so handy.

"Because of them, I feel like I got the most out of my education that I could possibly have gotten out of it," he said.

When he went off to college, he had every intention of becoming an actor, he said. But life had other plans. When he entered the musical theater program at Rockford College in Illinois, one of his professors pulled him aside and poured some cold water on his dream.

"I am not a great singer, unfortunately, and I had a very nice professor who sat me down one day and said, 'This thing that you think is going to happen is not going to happen. You're never going to be an actor.' And I was crushed," he said.

But the professor also told him he should consider turning his longtime hobby into a career.
"In community theater you have to be involved in some aspect of the show other than being on stage, so I was always helping in costumes, and in high school I helped create the costumes for the shows. For someone to tell me that this should be my profession instead of being on stage was quite literally life-changing," he said. "He saw potential in me as a costume designer, so they created a major for me."

Moller threw himself into his new career path, not only taking design classes, but also taking classes on hair history and styling, wigs and makeup because he wanted to understand all aspect of costumes and design. As a student he interned with the Santa Fe Opera, and after graduation did a national tour with a New York company called The Acting Company. He was then accepted into graduate school at North Carolina School of the Arts, which only accepts two designers in its costume program each year.

After graduate school he went on tour with "42nd Street" to China and South Korea, which allowed him to see professional theater from a technician's point of view and to see how things operate firsthand. When the tour ended, he moved to New York with the goal of working on Broadway.

Because of his background in hair as well as costume design, a makeup artist friend suggested he apply to the hair departments of different Broadway shows as a backup for stylists on vacation or medical leave, as a way to get his foot in the door.

"I took an afternoon and quite literally walked from 59th to 41st Street dropping off my resume at every single stage door on Broadway. Within two weeks I had my first call, and then a week later got my second call," he said. "So within two months of moving here I had two Broadway shows that I was working on."

The steady income from those shows allowed him to focus on and pursue his design career and put his resume together, and he was able to eventually move from hair into wardrobe. He has since worked on 23 Broadway shows, including "Miss Saigon," "Jersey Boys," "Hedwig and the Angry Inch," the revival of "Grease," and the "Lion King."

In addition to his Broadway career, he's also maintained a very active freelance design career, designing costumes for theaters and repertory companies around the U.S., as well as clothes for private clients. He won the Innovation Theater Award for Outstanding Costume Design in 2010 and has been nominated for several other costume design awards.

"I'm trying to maintain my design career as much as possible. In my ideal world, I want to design full time and be thriving enough as a designer to make that a career," he said. "I am lucky to have a day job with a very prestigious show, but because design is what I truly want to do, I carve out the time to make that happen."

Moller said his ultimate dream is to one day design costumes for a major Broadway show.

"As an actor, Broadway was always my goal. And now as a designer, Broadway is still my goal. I've always had very lofty goals," he said, laughing.