Let's Talk About It - Normalizing the Conversation
Posted by Colleen O'Neil on 10/29/2021
One of the first things I do before I start a new blog is to reflect on the previous month. I reflect on my role as the chemical health prevention specialist in the district, the programs we have in place to help support students and families who struggle with substance use, and what else can be done to help. I am acutely aware that my role is very specific and that not everyone sees substance use from my perspective. As I continue my work around substance use prevention, I find the stigma of substance use continues to be a barrier when it comes to normalizing the conversation and we need to remove that barrier so we can better support each other and better educate our children around the negative effects of substance use. 90% of adults who have at least one diagnosed substance use disorder began their use before the age of 18. If we don't start talking about this early, and talking about this often, that number will only continue to increase.
I am going to be blatantly honest. The young people in our community have easy access to popular drugs. Whether it be online, in social settings or in the community — they know how and where they can access them. If they don't know, they certainly know who they can connect with to find them. One of our school partners, Hazelden Betty Ford, published an article in early spring that explains how easy it is to purchase substances online. I don't share this to shock you, rather, I share this as something you should be aware of. I would also encourage you to check out our upcoming Parent Engage 360 events for more information on social media and internet safety. In order to normalize the conversation around substance use, one needs to have some knowledge in order to engage in the conversation.
Talking about substance use is not easy, especially with our own children. It's not comfortable. It's not part of our daily conversation. Yet, it is important to talk early and to talk often. I have shared this before and know from my own experience how beneficial this is: Take advantage of having your child teach you! Ask open-ended questions and be prepared for the answer - no matter how shocking it may be. We need to recognize that what we grew up with, the social norms around typical teenage behavior, is much different today than it was back when we were the same age. With such powerful drugs circulating and easier access than ever, I do believe we have a responsibility to educate ourselves so we can educate our children.
So, how do we educate ourselves? You are doing it right now! By reading this blog, by reviewing the links, by taking the time to read and learn, you are educating yourself. Next step is to normalize the conversation. Take advantage of those quiet times in the car, before bed, during dinner and start the conversation. Maybe ask specific questions such as "Hey, what are your thoughts on teens using?"- or - "I am curious, what do you know about (insert substance here)?" Initially, it may feel awkward or uncomfortable, but the more you approach it, the more open the conversation becomes. It is also important to not talk "at" your child, but talk "with." Try not to overtake the conversation. I am quite sure my own children would find this quite entertaining since I was not always the best at following my own advice.
In the coming months, I will focus on specific substances and share some myths and facts to help you continue to learn so you can continue to talk with your child. I am told one of the biggest barriers to having these discussions is the lack of knowledge. My hope is that I can share with you some valuable information allowing you to feel more comfortable with normalizing the conversation.
I want to leave you with hope. Hope that not all is lost, because it's not. Children are incredibly resilient and have the ability to adapt. Normalize the conversation, they will adapt to it. I also want to leave you with a renewed respect for health. By having conversations around substance use, you are also supporting your child's overall health, both mentally and physically. Lastly, I leave you with a sense of healing. Parenting is NOT easy. You will make mistakes, but you will also learn and grow from them, which is what makes healing possible.
As always, my hope is that you have enough information at your fingertips to help your student and if given the opportunity, you can say, "Let's Talk About It!"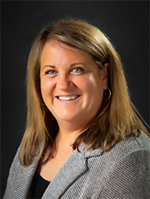 Colleen O'Neil, LADC, CPP
Anoka-Hennepin School District Chemical Health Prevention Specialist
Phone: 763-506-1145
Email: colleen.oneil@ahschools.us