Return to Headlines
Art Educators of Minnesota offer high accolades for two Anoka-Hennepin educators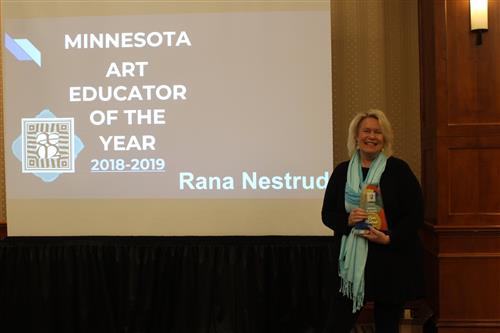 (11/15/18) It's safe to say Anoka-Hennepin has a tradition of excellence in art. The easiest demonstration of this is the district's three arts-focused schools — Lincoln Elementary School for the Arts in Anoka, Anoka Middle School for the Arts (AMSA), and Anoka High School (AHS) with its new STEAM (science, technology, engineering, art, and mathematics) program.

But another demonstration of the district's excellence in art is its employees. In November, the Art Educators of Minnesota (AEM) offered two Anoka-Hennepin educators three of the state's highest recognitions for art educators.

First, the group named AMSA visual arts teacher Ann Phillipi as its Middle School Art Educator of the Year. AEM also named AHS STEAM program coordinator Rana Nestrud Minnesota's Administrator of the Year, as well as the group's Art Educator of the Year, the latter of which is AEM's highest honor.

"Honestly, this whole experience has been surreal," Nestrud said. "To be recognized by my peers is a tremendous honor. I have been blessed to work with incredible people."

Nestrud is new to Anoka-Hennepin and AHS. She began her first year as the AHS STEAM coordinator this fall, and before that, she spent 30 years working with Elk River schools, including demonstrating a school-wide commitment in arts integration. According to AEM, Nestrud has also written and secured grants for education totaling more than $750,000, and established the first public school art exchange between Elk River High School and the Oprah Winfrey Leadership Academy for Girls in South Africa.

"I am passionate about art education because I see the positive impact it has on students," she said. "All people should have access to the arts — they are essential to a quality education."

AEM President Jeff Pridie said Nestrud is inspiring because she's always trying to place the arts as the center for growth and development. "Her passion for the arts will be her legacy," he said.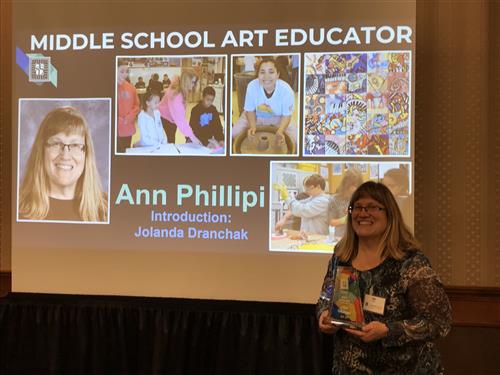 Meanwhile, for a modest Phillipi, being named middle school art educator of the year has been humbling.

"I've been teaching for 25 years, and, to be honest, I'm more of a behind the scenes kind of girl," she joked. "But really, it's such a great honor to be recognized by my peers and colleagues. It's pretty cool to have accolades like this come from them."

Phillipi said that she was nominated for the award by AMSA curriculum integrator Jolanda Dranchak, but it could have been any of the art staff at the school who could have been recognized.

"Everyone is deserving — we all work hard to bring the joy of art to our students," she said.

Art, for Phillipi, is a passion. Beyond teaching, she has a studio in her home, and she said she finds herself in her studio every night working on something. "Painting, drawing, photography — I'm always up to something," she said.

And that passion bleeds into the classroom, she said. "My favorite part... we work really hard with the kids all year long and develop these great skills, and at our end-of-year art fest, the kids are so proud of their work — they're beaming," she said. "That's the best feeling."

Beyond the state, in March 2019, Nestrud will be presented with national recognition at the National Art Education Association conference in Boston, Mass.