Return to Headlines
Fifth and final Fit for the Future groundbreaking event held at Coon Rapids High School
(10/04/18) There was excitement in the air at Coon Rapids High School (CRHS) on a Tuesday evening as Anoka-Hennepin administrators, city officials and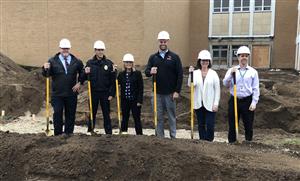 school representatives gathered to mark the beginning of a multi-year project.
A groundbreaking ceremony at CRHS on Tuesday, Oct. 2 marked the fifth and final such celebration of phase one of Anoka-Hennepin's Fit for the Future construction projects.

Work on the school's new main entrance has begun and the project was met with excitement from administration and city officials.

"This groundbreaking is the start of a multi-year project to make the building more secure and much more welcoming to visitors," said Anoka-Hennepin Superintendent David Law. "This project (part of the Fit for the Future plan) is the result of over five years of work and we are very excited to celebrate here at CRHS, marking the last groundbreaking, and we are very anxious to begin this project."

CRHS Principal Annette Ziegler and Assistant Principal Curt Wallrath were joined by Coon Rapids Mayor Jerry Koch, Coon Rapids Police Chief Brad Wise, Coon Rapids City Council members Jennifer Geisler and Bill Kiecker, as well as Superintendent David Law, Associate Superintendent Dr. Timothy Gadson III, Chief Operations Officer Chuck Holden, and Director of Communication and Public Relations Jim Skelly. Anoka-Hennepin Board Members Nicole Hayes and Jeff Simon were also in attendance, along with many other individuals close to the project. See all the photos from the groundbreaking event.

"This is a very exciting time in Coon Rapids," added School Board member Jeff Simon. "With ongoing projects at Hoover Elementary and Coon Rapids Middle School, we are thrilled with the excitement surrounding these schools. I would like to thank our Fit for the Future task force, as many community members came together to provide the goals of the successful referendum. I would also like to recognize the Coon Rapids community, as they have always been supportive of our schools."

The construction crew from Boser Construction, Inc. began work on the project the week of Sept. 22 by removing the facade on the northeast corner of the building. Since then, excavation work has commenced to make way for the school's new secured main entrance. Future projects at CRHS will include additional classrooms, science and media center improvements, as well as upgrades to the cafeteria and strength and fitness rooms.

The project at CRHS is just one of a number of construction and renovation projects that were backed by voters last November when the community approved a request for new funding to allow Anoka-Hennepin to create safe and secure learning environments by removing all portable classrooms across the district, construct additional schools and classroom space, provide solutions for maintaining quality schools at every building in the district, and address class sizes at all levels.

In addition to the work being done at CRHS, earlier this year, similar renovation projects have begun at Andover, Anoka, Blaine and Champlin high schools. Construction on two new elementary schools — one in Ramsey, located at 17003 Nowthen Blvd. NW, and another in Blaine, located at 12576 Lever St. NE — began in May. The new elementary schools will open at the start of the 2019-20 school year.

For more information about the construction projects, the history of the Fit for the Future plans, and for updates, visit ahschools.us/construction.