Return to Headlines
Names selected for new elementaries as part of Fit for the Future plan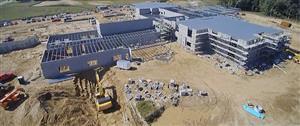 (10/23/2018) The new elementary schools being built as part of Anoka-Hennepin's Fit for the Future plan have been named. The school in Blaine will be called Sunrise Elementary School; and the school in Ramsey will be called Brookside Elementary School. The decisions were made following a community driven naming process at the Oct. 22 School Board meeting.

Vice Chair Marci Anderson said that Sunrise Elementary School felt like a good fit for the Blaine site, "The idea of young kids on the sunrise of their educational journey and new beginnings – it resonated with me," said Vice Chair Anderson.

Chair Tom Heidemann had similar thoughts on Brookside Elementary School for the Ramsey site, "I favor the landmark names. There's a brook right there on the edge of the property, so it seemed like the appropriate name – and in the tradition of what we've done in the past," said Chair Heidemann.

Two committees made up of staff, parents/guardians and community members shared ideas and sifted through several community suggestions in September. The top picks were shared at School Board meetings this month, prior to the School Board selections taking place Oct. 22. During this final meeting, Chair Heidemann thanked the committee members for their time and hard work as well as the community for taking part in the process and sharing creative suggestions.

With the school names being picked, school and district leadership will now choose school colors and develop logos. Websites, e-newsletters and social media pages will kick into gear as well. The school mascots, however, will be left for the first year of students to pick.

Families of students who are in the attendance boundary area for the new schools will receive a notice in the mail early November. The schools are set to welcome students fall 2019.

These two new schools are part of the Fit for the Future plan backed by voters November 2017. The plan will also create safe and secure learning environments through the removal of portable classrooms, additional classroom space, solutions for maintaining quality schools at every building in the district, and class size addressment. Districtwide construction updates are being shared at ahschools.us/FitForTheFuture.