Return to Headlines
Coon Rapids High School introduces 2023 Hall of Fame class
(09/14/2023) Coon Rapids High School (CRHS) will induct its fifth Hall of Fame class featuring three former standout students and one longtime coach and administrator.
CRHS will recognize this year's Hall of Fame inductees in a ceremony on Friday, Sept. 29. Inductees will be honored at a ceremony with friends and family in the CRHS cafeteria at 5 p.m. before being recognized prior to the Cardinals' football game against Anoka High School. Kickoff for Friday's game is set for 7 p.m. Visit ahschools.us/crhshof to view past inductees or to nominate someone for the Coon Rapids High School Hall of Fame.
Meet the newest members of the Coon Rapids High School Hall of Fame: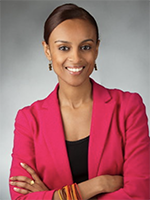 Semhar Araia
Semhar Araia is a 1995 graduate of Coon Rapids High School where she was involved in numerous clubs including National Honor Society, Student Council, Cardinal Pals, Advocates for Humanity, and Cultural Diversity. She was named the school's homecoming queen her senior year.
Semhar is the founder and CEO of the Diaspora African Women's Network (DAWN), an advisory firm supporting African diaspora professional women and partners committed to diaspora engagement and gender equity. With nearly 25 years of public policy and advocacy experience, Semhar is a recognized thought leader, public speaker and practitioner on diaspora engagement, African affairs, women's leadership and international development.
She has advised multiple public and private entities, including governments, international organizations and over 100 African, Asian, European and Arab diasporas. She began her career as an attorney for the implementation of the 2000 Eritrea-Ethiopia peace agreement.
Her leadership includes recognition from President Barack Obama as a White House Champion of Change, The Root's Top 100 and being named among the Top 100 Most Influential People of African Descent. Semhar was born in New York City to Eritrean immigrant parents and currently resides in Washington, D.C.
Dan Dehnicke
Dan Dehnicke spent his entire career in education and over 37 years held a variety of roles, including social studies teacher, football coach, girls track and field and basketball coach, activities director at Coon Rapids and Andover high schools and principal of Andover High School.
Dan grew up in Chicago and attended Augustana College (now University) in Sioux Falls where he played football for four seasons and graduated with his teaching degree in 1973. He started teaching and coaching at Mitchell High School in South Dakota before moving to Coon Rapids High School in 1974. He taught and coached at CRHS from 1974-1986 before spending two seasons as an assistant football coach at the University of North Dakota. Dan returned to CRHS in 1988 to serve as the head football coach and in 1989 he was named activities director, a role he held until 2001.
Some of Dan's career highlights as a coach and activities director at CRHS include overseeing the construction of the new fieldhouse, leading girls track and field to two conference championships, twice being named the Northwest Suburban Conference (NWSC) Coach of the Year, and being named the region 4AA track and field coach of the year. He was the defensive coordinator of the 1983 state champion football team, was twice named region 4AA activities director of the year, and he coached multiple state champions in track and All-State players in football.
After retirement from teaching and coaching, he served as the executive secretary of the NWSC and in 2016, he was inducted into the Augustana Athletics Hall of Fame. Dan and his wife Sue have two sons, Adam (Brooke) and Drew (Katie), and six grandchildren.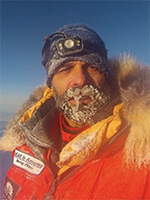 Lonnie Dupre
Lonnie Dupre is a 1979 graduate of CRHS.
After high school, Lonnie achieved many accomplishments through his outdoor adventures. He completed the first west-to-east 3,000-mile winter crossing of Canada's famed Northwest Passage by dog team. He achieved his first circumnavigation of Greenland, a 6,500-mile, all non-motorized journey by kayak and dog team. Lonnie has pulled sleds on skis from Canada to the North Pole, twice achieving over 68 million impressions worldwide on issues surrounding climate change.
Lonnie has received countless awards for his travels. His earliest award was received in 1989 for the Soviet "Sportsman's Medal" from Mikhail Gorbachev. In 1994 he participated in the winter Olympics in Oslo, Norway with a dog-sled team. Lonnie was an elected fellow of the National Explorers Club in 1996 and was featured twice in National Geographic for Best of Adventure. In 2019, Lonnie was elected as a Fellow in the Royal Canadian Geographic Society.
Lonnie currently lives in Grand Marais, enjoying woodworking and back-country skiing in the Quetico/Boundary Waters Wilderness of the Minnesota/Canadian border.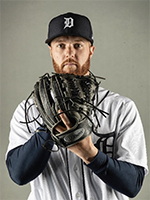 Logan Shore
Logan Shore graduated from CRHS in 2013 as a highly successful student-athlete.
Logan was a three-sport athlete for the Cardinals, participating in nordic skiing, hockey and baseball. He was a first team all-state selection from 2010-13 and was named the state's Mr. Baseball award winner his senior year. Shore was also named the 2013 Minnesota Gatorade Player of the Year for the state of Minnesota. He still currently holds career records in wins, earned-run average and strikeouts at CRHS.
After graduation, Logan continued his academic and athletic career at the University of Florida. In 2014, he was named the Southeast Conference (SEC) Freshman of the Year and earned All-America honors. As a junior for the Gators, Logan posted a record of 12-1 in 18 appearances to go along with 96 strikeouts. He was named the SEC Pitcher of the Year in 2016 and was a finalist for the Golden Spikes Award while earning first team all-America honors.
Logan was drafted with the 47th overall pick in the second round of the 2016 Major League Baseball Draft by the Oakland Athletics. He is currently in his seventh season in professional baseball, making stops at Class A, AA and AAA ball. Logan was signed as a free agent by the San Francisco Giants on March 9, 2023 and was assigned to the Sacramento River Cats (AAA). He made one appearance in 2023 before suffering a season-ending injury.