Return to Headlines
Sunrise teacher earns National Board Certification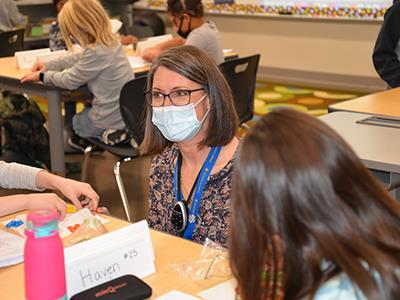 (01/05/2022) Sunrise Elementary teacher Jennifer Keller strived to be more than just a second grade teacher and has pushed herself beyond the expectations to become a National Board Certified Teacher. Through the process, Keller believes her approach to teaching has reached a deeper level.
"I think what I take away from these last three years is the depth with which I began looking at students' work or videos and how that guided me forward in my next steps with them," Keller said. "With all the different areas I teach and the different levels of learners I have, it has just become normal practice to operate now at that depth."
Keller is one of three teachers in the Anoka-Hennepin School District with an active certification from the National Board of Professional Teaching Standards. Ann Katorosz, a kindergarten teacher at Dayton Elementary School, achieved her certification in 2018. Kristin Shively, a teacher at Secondary Technical Education Program (STEP), recently completed her certification in December. The process demands an intense amount of time and effort by the teachers and includes hours of data collection and analysis, which is used for portfolios up to 50 pages long in findings.
"When I learned about this certification I thought it would be a good challenge and a good opportunity for reflection and growth, so I decided to put my time, energy, and money into it."
Keller has spent her entire teaching career in the district. She began as a para in 2004 and started teaching in 2008.
She accomplished the certification during a difficult three-year span. In the first year she helped plan the opening of Sunrise for the fall of 2019 while still teaching at Rum River Elementary, then the second year she helped lead her second grade team in the first year of the school's existence, and finally, completed her certification in 2020-21 while teaching in a hybrid model, distance learning, and then back to full in-person learning.
"I had these external supports from within the building, in the district, and in my personal life that were extremely helpful," Keller said. "This doesn't happen in a bubble, and I'm grateful for the supportive people that helped me throughout the process."
National Board Certification is the most respected professional certification available in education and provides numerous benefits to teachers, students and schools. It was designed to develop, retain and recognize accomplished teachers and to generate ongoing improvement in schools nationwide.
"The journey is incredible and anyone that is willing to try this will learn so much along the way that benefits you as a teacher and most definitely the students," Keller said.
National Board Standards are developed by committees of outstanding educators who are broadly representative of accomplished professionals in their field. The Five Core Propositions form the basis of all National Board Standards: Teachers are committed to students and their learning; Teachers know the subjects they teach and how to teach those subjects to students; Teachers are responsible for managing and monitoring students learning; Teachers think systematically about their practice and learn from experience; Teachers are members of learning communities.