Return to Headlines
Elementary students learn mindfulness techniques through unique program
(05/10/19) With the ring of a bell, students in Kelly Camp's fourth grade class at Adams Elementary School closed their eyes and began their day with thought and reflection. From there,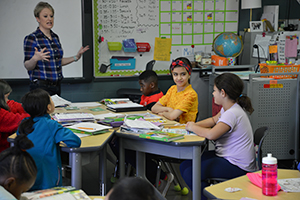 students engaged in conversation and mindfulness practices with their teacher, peers and program facilitator Sarah Rudell Beach, to learn skills that will allow them to live a life with a greater sense of calm, balance and ease. View a photo gallery.

This exercise is part of the mindfulness program which is in its second year of implementation at four elementary schools in the district, thanks to a grant from the Anoka-Hennepin Educational Foundation (AHEF). Fourth-grade students at Adams, Dayton, and Sand Creek elementary schools, as well as Monroe Elementary School - Mathematics, Science and Children's Engineering have been engaged in the program.

"For the AHEF, this was a significant investment, but it was also a huge opportunity to positively impact students across multiple schools," said Tess DeGeest, executive director of the AHEF. "Dr. Nita Kumar was very thoughtful in the design of the project, which will provide data to assess whether mindfulness should be taught more broadly. The impact AHEF donors have on students is only possible through the hard work and dedication of our amazing teachers and staff. The mindfulness project is a perfect example of teachers and staff consistently doing more to benefit our students."

Each lesson is focused on a different aspect of mindfulness and students have experienced instruction on mindful movement, mindful emotions and feelings, kindness, empathy, and gratitude. And on May 7, Adams students were engaged in a discussion on mindful test taking.

"Students are sometimes distracted by stimuli in the environment or from other life events outside of the classroom, making it difficult to engage in learning," said Dr. Nita Kumar, a mental health consultant for the district. "The mindfulness techniques taught through this program help students bring awareness to the present."

Dr. Kumar added that this helps students "learn to be where their feet are planted," and the connection of simple mind-body techniques can help students with academic, social and emotional success in school.

After the class took time for thought and reflection, Rudell Beach led a discussion on how to use mindfulness techniques when being annoyed or picked on by others, at school or at home by siblings or peers, and how it can help students turn their attention elsewhere.

"Mindfulness is paying attention to what you can control and you have a choice in what you pay attention to," Rudell Beach told the students.

Students then addressed feelings of anxiety, stress and nervousness and discussed causes such as public speaking, being overwhelmed or surrounded by people, testing, things happening at home, such as new siblings and more.

Rudell Beach asked the students to close their eyes and imagine they are taking a test and had them focus on their breathing, taking deep breaths and refocusing their thoughts.

The discussions have given students tools they need to practice mindfulness both at home and in the classroom.

"A lot of students say that they use mindfulness practices at home, especially after interactions with their siblings," Rudell Beach said. "We talk a lot about different ways to incorporate mindfulness into their daily lives."

With the end of the two-year program in sight, Dr. Kumar will share her findings of the program with the AHEF and the data will be shared for consideration in the district's Social Emotional Learning planning.